Best Smart Lights from LOHAS LED That Support Google Assistant
As a branch of smart home,
smart light
has seeped into our life.
And t
he options are endless in the market, even the smart lights that support Google Assistant. The reason for their popularity is that you can control your lights with just your voice without any manual control, which greatly simplifies your life, raises working productivity and boosts your happiness. But choos
ing
a reliable
and cost-effective
smart light
that supports Google Assistant
would not be eas
y.
CONTENTS:
What Makes LOHAS LED Google Smart Lights Stand out?
How to Connect Your LOHAS LED Smart Light Bulbs to Google Home
?
The
names that come to your mind first may be Philips, Opple or Osram when it comes to smart lights. Recently, numerous highly competitive light brands are exploding on the market, and LOHAS LED is one of them that is becoming increasingly known for its functional, energy efficient, durable and wallet-friendly lights, especially its top-selling smart lights. All LOHAS LED smart bulbs work with Google Assistant, deliver multiple fabulous functions and good value for money that make them stand out from
many
of the
ir
competitors. Even better, they come with various base sizes
and bulb shapes
for different sockets
and fixtures
to satisfy every household's lighting needs. Here we share best LOHAS LED smart light bulbs that
support
Google Assistant.

E26 bulb is the most popular and most common type in North America. LOHAS LED offers most sorts of E26 smart bulbs with various bulb shapes you're trying to go for like A-shaped bulbs, cup lights and down lights. All the bulbs don't require a hub and fully work with the Google Assistant to display 16 million colors, warm and cool shades of white(2700K-6000K), let you set the lights on schedule, create scenes and even group the lights for convenient control. Moreover, having an expected lifespan of around 30,000 hours reduces the frequency of bulb replacement and greatly saves your budget and energy.

Connect

LOHAS LED

smart light

s

to

your smart

a

ssistant to

light up outdoor or indoor spaces and

experience dimmable white and color

ed

light

that

offers you endless possibilities

.





Apart from E26 smart bulbs, LOHAS LED E12 smart light is another type of bulb that has
a
smaller base and candle bulb shape. It's also simple to set up and
remotely
controllable with your smart
phone or
just with
voice
using
Google Assistant, Alexa and Siri to turn on/off, dim/brighten/group your light, switch the color and create a schedule.
Besides, designed with
elegant candle shape, 16 million colors and tunable white(2700K-6000K), th
ese
candelabra bulb
s
are
gorgeous addition
s
whether to decorate your chandeliers or other fixtures in your bedroom, living room, or set the scene for special occasions. What's more, consuming only 5W of power, one light kit comes with 2 packs at a very affordable price that greatly saves your budget and
consumes lower power than other lights
.

After picking out a LOHAS LED smart bulb, you may wonder how to add it to your Google home. We here list the setup steps to help you hook your LOHAS LED smart bulbs to your favorite smart assistant.





STEP 1.

Set up Your Devices


Install your LOHAS LED smart bulbs first and connect to your Wi-Fi network.





STEP 2.

Add the Devices

to

the App


Next, open up the Google Home app. On the main screen, you'll see an

"Add"

button. Tap the button and switch to another page. Then, click the first blue plus sign next to the

"Set up device" .

After entering

"Set Up"

page, you'll see two options. The first one can scan your smart bulb

s

in your home and then prompt you to join it

to

your Wi-Fi network.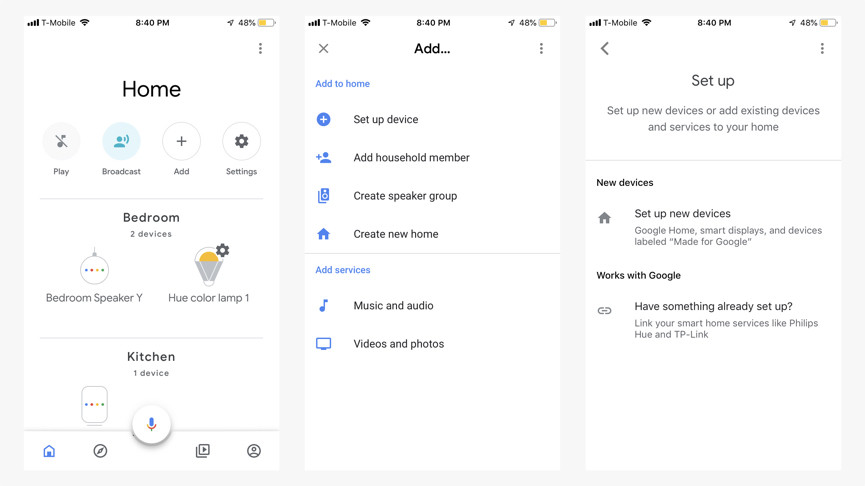 STEP 3.

Rename Devices in the Google


After wireless connection of the smart bulb, the home screen shows all your devices that are clearly categorized by room. Tapping on the devices or tapping the cog icon in the top-right if some controls pops up like a volume controller will take you straight to the device settings. You'll see a place to chance your smart bulbs to replace the annoying product names for convenient voice control.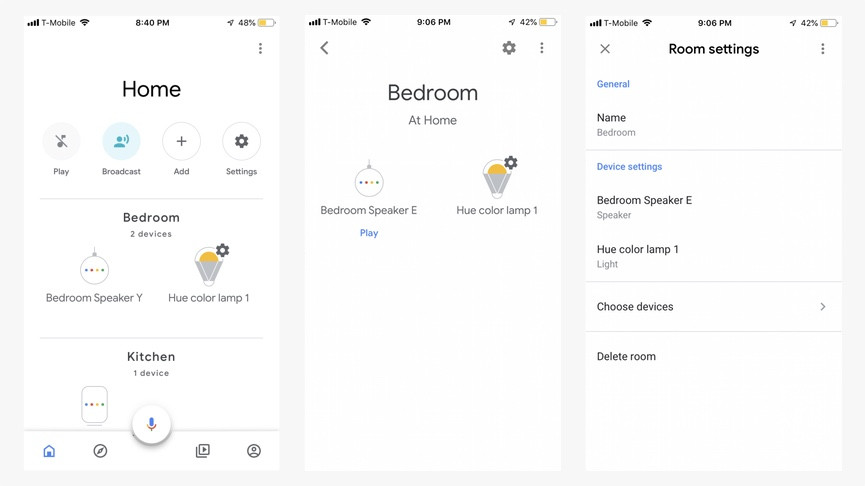 STEP 4.

Add the Devices to a Room


To assign your google smart light to a specific room, click on the target room name on the home screen, and tap the cog icon on the top-right of the screen. Then, select "Choose devices" to add or remove your smart bulb. If you want to add a new room, tap on an existing device or a new unassigned one, hit the cog icon to the device settings and tap on "Room", you'll see all the existing rooms plus loads more you can add instead.

Once successfully connected, use your voice to ask Google home to perform any action you desire, such as turning lights on or off, dimming or brightening lights, changing colors, setting turn-off time and grouping lights.




When connected to Google Assistant, LOHAS LED smart lights are animated with magic that makes you realize hands-free light control through voice interaction and creates a voice-controlled smart home system. Light up your room in a much cooler way and enjoy a smarter life with LOHAS LED smart lights!