LOHAS Science: Can indoor plants use led light for photosynthesis?
Indoor artificial light can not only replace sunlight to meet the photosynthesis of plants, but also has its own huge advantages, such as "customization". Sunlight is shared by all things, and there is no preference for any kind of plant, only the plant adapts to her.
However, the emergence of artificial light, especially the birth of LED, allows us to accurately design and tailor the light formula of plants, so that plants in the indoor plant factory can subvert "the growth of everything depends on the sun".
1. Let me talk about the principle of plant sunlight using sunlight
The wavelength range of sunlight covers the entire electromagnetic spectrum from X-rays to radio waves. When passing through the earth 's atmosphere, it is strongly absorbed by ozone, water vapor and other atmospheric molecules. Only light with a wavelength of 295-2500 nanometers reaches the surface, including plants The available photosynthetically active radiation is in the range of visible light (380-780 nm), which is what we usually call red, orange, yellow, green, blue, purple and seven colors of light. The absorption spectrum analysis of photosynthetic pigments shows that plants mainly absorb light waves in two regions of red light and blue light for photosynthesis. Green light, yellow-orange light, and far-red light do not contribute as much to red and blue light as photosynthesis. Plants absorb less, but these trace amounts of light are indispensable to other metabolic processes of plant growth.
In addition to the composition of the spectrum, the growth of plants requires a suitable photoperiod and light intensity. Within a certain range of light intensity, the photosynthetic rate of plants accelerates with increasing light intensity, but the light intensity cannot be increased blindly. For each plant or each development stage, the light intensity and the light time are often considered together to achieve its daily light demand. The appropriate light intensity and light time can play a multiplier role in ensuring yield and saving costs.
It is the "recognition" and "preference" of plants for light, which provides theoretical guidance for artificial light cultivation of plants. As long as they can produce light that meets the growth and development of plants, healthy growth of plants can be achieved. We call the sum of the plant's demand for light quality, photoperiod, light intensity, and lighting method as the light formula.
2. Research on plant light formula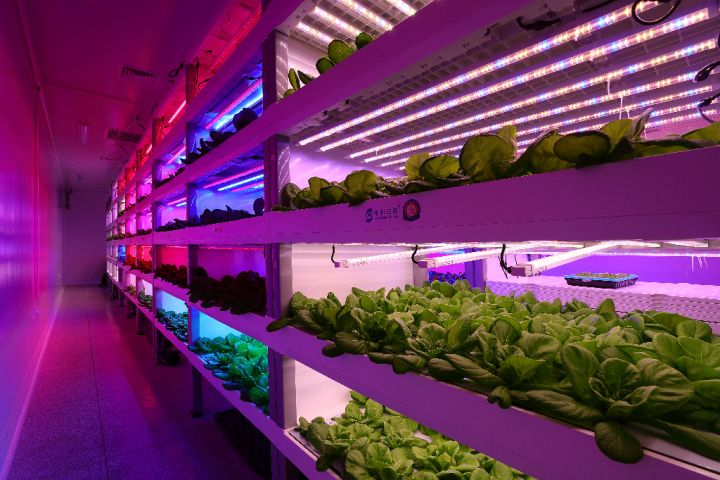 LED chips have the characteristics of good monochromaticity, narrow spectrum, stable beam concentration, etc. The "core light" emitted by chips with rich wavelength types can cover the wavelength range of 380-780 nanometers, which is the only way to achieve plant artificial light environment. selected.
So, how can LED "core light" replace sunlight to satisfy plant photosynthesis?
This requires scientific researchers to fully understand the requirements of different plants and different growth stages of the same plant on the basis of the light formula, using LED "core light" technology, different colors and intensity of red orange yellow green blue blue purple and other colors The combination can not only meet the energy needs of plant photosynthesis, but also be suitable for the precise control of its growth and development, while saving energy and cost in production, so as to customize the most suitable light formula.
Appropriate light formula can not only ensure the high efficiency of plant photosynthesis, but also special light formula can regulate the behavior of plants like condiments, make vegetables more delicious and nutritious, flowers more bright, fruits sweeter and more nutritious.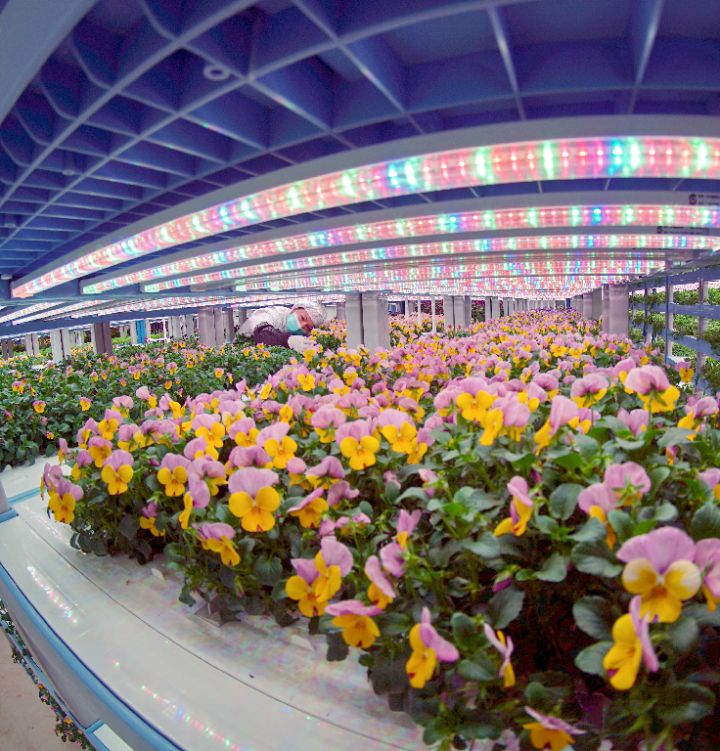 In practical applications, we must first explore the differences between plants. Different crop types or harvested plant organs are different, such as cabbage and basil leaves, tomato and blueberry fruits, dianthus and cornflower flowers, stems of Dendrobium huoshanense, tubers of Dangshen and ginseng, seeds of wheat and corn, and even whole The strains are all precious clematis, and the requirements for the light formula are also very different. Through the implementation of light formula, the yield and quality of plants or these target organs can be precisely regulated, and the economic benefits of plants can be improved.
3. "Elegant" lettuce
There is a kind of lettuce called "elegant". In the light environment where it grows, if there is too much green light, the growth will be slow, but the green light is too little, and the leaves of the lower layer of the vegetables are easy to yellow. This is because the strong penetration of green light makes The lower leaves are also exposed to light and maintain photosynthetic activity. Far-red light also has a high transmittance, and an appropriate amount of far-red light can increase the yield of leafy vegetables. However, even if the same amount of far-red light is received, the seedlings of leafy vegetables and nightshade vegetables are prone to grow long, which affects the later yields, but for dianthus, hornworm and cucumber, increasing the far-red light is beneficial to early flowering Or the fruit is enlarged and colored to achieve early market.
Through precise light formulation, plants can also be used as bioreactors to produce the target compounds we need. For example, adding some blue-violet light can promote the accumulation of anthocyanins in purple or red vegetables, make the vegetables more colorful and have antioxidant effects; and for medicinal plants such as Anoectochilus and Dendrobium, the controllable light quality and The ratio is more conducive to the accumulation of secondary metabolites such as polysaccharides, flavonoids or some proteins, making it possible for plant factories to produce health care raw materials and medical proteins or intermediates.
In the future, special light formulas will be widely used in scientific research, modern agriculture and plant production in special fields. Efficient light formula can not only bring a better growth environment to plants, but also produce economic and social benefits that are refreshing.
Therefore, indoor lighting instead of sunlight can fully meet the needs of plants for photosynthesis. What we are currently pursuing is how to better meet the needs of all plants so that they can grow better than in natural environments.