Top 3 Smart Home Devices For Starting Home Automation
Home automation refers to the use of micro-processing electronics to integrate or control electrical and electronic products or systems in home, such as lighting, coffee makers, computer equipment, security systems etc. The home automation system works mainly based on a central microprocessor (Central Processor Unit, CPU) receiving messages from related electronic and electrical products (changes in external environmental factors, such as changes in light caused by the sun's rising or west setting, etc.), then sends appropriate messages to other electronic and electrical products in a set procedure. Home automation helps realize the automation of people's housework and household management, which greatly reduces our work in family life and saves our time.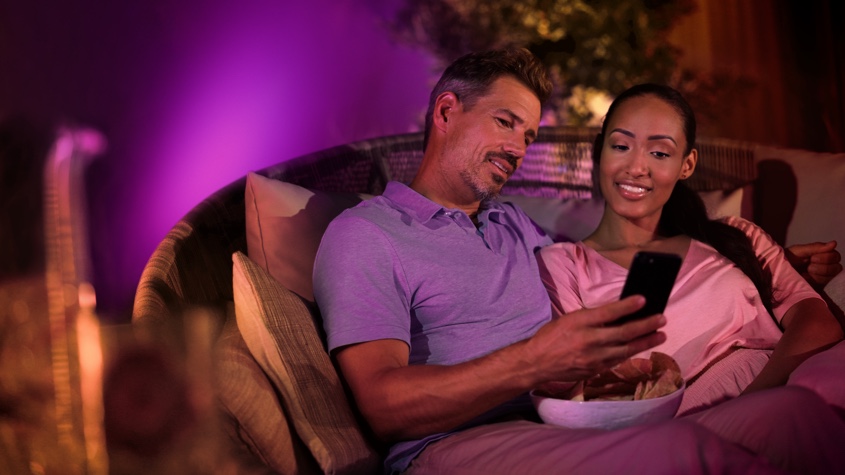 Contents:
Why We Need Home Automation?
What to Consider before Purchasing Smart Home Devices?
3 Powerful Smart Home Products for Saving Money & Energy



Why We Need Home Automation?

In fact, home automation has already appeared in our lives. The earliest automated devices into the home includes automatic washing machine and automatic air conditioning devices, etc., which have greatly changed and simplified our lives. Then, with both the development of modern technology and the improvement of people's living needs, the scope of home automation is also expanding, such as home security systems, home automatic control systems, home information systems, and home robots. But why do we need home automation?



More Convenient

When you go to bed, leave home, or wake up at night, you have to switch the lights manually. But with smart lights, you can set your hand free now. By using smart home devices, you can set multiple modes for smart light bulbs, and you can turn on or off a series of lights just by tapping a button on your phone.



Saving Energy and Money

While smart home devices are expensive to buy, you'll find that you have saved a lot of money in the long run. Advanced technology makes most intelligent electronic products energy-saving and environment-friendly. Meanwhile, control your appliances through smart home systems, which can act on their own or be programmed to control energy consumption and increase savings.



Reliable & Safe

Increased security is a significant advantage of home automation systems. Running 24 hours a day, the smart system can access messages about connected devices and motion sensors at any time and then send you real-time messages about your home, so you will know who is in your home or whether your children are playing safely at home. What's more, if you forget to turn off the smart device or smart door lock, you can launch their own Apps to have them shut down automatically. When you go home at night, you can also turn on the lights, heating or cooling in advance through the smart automation system, providing you a pleasing and bright living environment, greatly improving your home security.




What to Consider before Purchasing Smart Home Devices?
It's true that home automation has made our lives more efficient
and safer
.
But
with
so many smart home devices on the market, what should we consider before
p
urchasing smart products?
What kind of smart home devices do you need?
It is
important
to think about what smart device you need before buying. You can think about what you usually do manually, and then think about how much time and money you
could
save through
the
smart device, and whether it meets your life needs. For example, if you
have
spen
t
a lot of time cleaning
daily
, an intelligent sweeping robot will be your indispensable choice.
What are the functions of smart home devices

?
Ensuring
the functions
your smart device
supports meet your needs before you buy
is quite important
.
To take
smart camera
for instance
, most of
them
can realize the phone remote monitoring, automatic capture alarm, automatic video recording and other basic home guard anti-theft functions
. So if you want some tool to
monitor
your home
situation
or
capture
immediately
when
it find
strangers entering the home
, you may need
smart camera
.
What's your budget?
After deciding which smart products to buy, it's time to start thinking about the price of the device.
Generally, smart home products are higher than ordinary devices, so choose the most suitable produc
t via
consider
ing
the use and function of smart devices and combin
ing
with
your
own economic situation and actual needs.
How to install and maintain

devices

?
Generally speaking, the installation and maintenance of smart devices is not complicated. But things like electric lights, curtains and various sensor devices need to be located properly, which ask to be placed avoiding obstacles as much as possible to ensure that the wireless signals are unimpeded. Also, get the latest technology via updating devices instantly.
3 Powerful Smart Home Products for Saving Money & Energy
Excellent smart lighting products have two outstanding features: One is that LED smart bulbs are more energy efficient than traditional bulbs, and the other is they can be remotely controlled by your phone and voice-controlled assistant.
LOHAS LED A19 Color Changing Light Bulb is a kind of smart light bulb that is compatible with Alexa Echo, Google Home Assistant and Siri. You can give a voice command to turn on/off, dim/brighten or switch the light color. Then you can easily set schedule for your smart bulbs, create a group for all LOHAS smart devices for integrated control. As mentioned above,
"
switch the light color
"
is the biggest highlight of this smart bulb. More than 16 million colors (daylight & warm white + RGB) and eight scene modes are available, while each color with adjustable brightness, so you can choose your favorite color to create the desired atmosphere. Free of lead and mercury, UV and IR. The service life is over 30,000 hours, under normal use (3 hours/day) can reach 27.39 years. 8-watt bulb uses at least 86% less energy than a 60W incandescent bulb. With standard E26 base is easy for you to install directly.
Smart Sprinkler Controller
Maintaining your backyard is a grueling task that requires a lot of energy, water, and time.If you have a sprinkler that turns on when you need it, you can save a lot of valuable time and water and water bills. This smart sprinkler controller from Rachio can help you a lot. Maintaining your backyard is a grueling task. If you have a sprinkler controller that turns on when you need it, you can save a lot of valuable time, water and water bills. This smart sprinkler controller from Rachio can help you do that. It has an exciting feature called "Weather Intelligence Plus" that only Rachio 3 has, which provides local accuracy into the current and projected weather that's not only in your area, but right outside your door. Exclusive weather intelligence plus can automatically skips unnecessary watering with features like rain skip, wind skip, freeze skip, and more. Working with Amazon Alexa, Google Home Assistant, Nest, IFTTT, which makes it easy to control. It is really a good choice for home automation.
Smart Thermostat
Smart thermostats control the internal temperature of your home more precisely, helping you reduce the cost of heating or cooling by at least
20%
.
By adjusting the temperature using flexible scheduling, remote access, and geofencing, Sensi Touch Thermostat help save about 23% on HVAC energy usage. Designed to work with HVAC equipment in most homes (U.S. & Canada only). Compatible with Alexa, Apple HomeKit, Google Assistant and Wink home automation platforms to give you a complete smart home experience. Whether you are at home or on-the-go. Just a tap of the touchscreen display or free mobile app lets you remotely access, change or program your home temperatures anytime. Be aware that all system types require a common wire (c-wire). And system requirements for mobile applications: iOS - 10.0 or above Android - 4.2 or above (5.0 or greater to use the Geofencing feature).
If you are gonna to start a smart life, it is important to have a comprehensive understanding of home automation. The above recommended smart products are a good choice for your smart home. Click the link and take it home.