The Best Outdoor Security Lights to Scare Burglars Away
In general, people used to placing

outdoor lights

in darker areas outside home to give them a bright, clear and well-lit view for their peace of mind, so nothing is overlooked. However, did you know that the light can also deter lurking burglars who tend to avoid a home that looks occupied? With the right

outdoor

security

lights

, thieves won't be able to easily sneak up to your homes as a well-lit area will make it more difficult for them to hide without being spotted.

For that, many of the 'clever tricks' home owners rely on leaving lights on at night to keep burglars out, but with a variety of

security

lights

that can deliver the most security and value the outside of your home, choosing the right outdoor security lights can be a little bit hassle. So, to help you figure out which one is best for you, we made this guide here.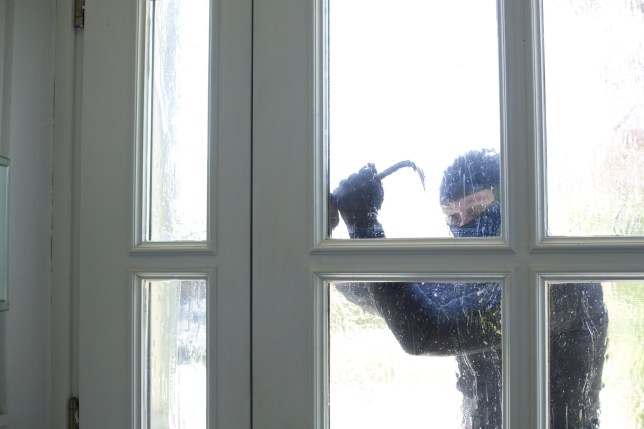 CONTENTS:
What are the Security Lights?
Can Security Lights Deter Burglars?
Explor
e
the Different Types of Outdoor Security Lights
The Difference between Photocells and Motion Sensors
What

are the Security Lights

?
Reference:
Security Lighting from Wikipedia
Since lighting is integral to crime prevention through environmental design, security lighting refers to the lighting that intended to deter or detect intrusions or other criminal activity on a piece of real property, which can also be used to increase a feeling of safety.
Can Outdoor Security Lights Deter Burglars?
To be honest, outdoor lights can work to deter burglars is still inconclusive, but it most likely works. According to a study conducted by KGW8, mixed answers were received from former burglars. One way to potentially deter burglars with lights is through strategic use (NPR), which means considering
smart bulbs
or lights with home automation capabilities can be one of the best option that may prove how effective they are.
Explore the Different Types of Outdoor Security Lights
When it comes to outdoor security lights,
t
here's a variety of
types
to choose from
. Your choice of lighting will depend on your home's needs. Here are
two
popular options to consider:
Just as its name
implies, the
solar light
s
have a
small solar panel on the top of it to absorb the sunlight while converting it into energy
, which enables them to
harnesses the sun's energy to provide illumination for indoor and outdoor applications.
Then, y
ou'll like the flexibility of placing it anywhere (as long as there's ample sunlight) and the tiny price tag - you can pick one up for around $
6 from
LOHAS LED
.
Plus,
it can be a lifesaver when outdoor outlets are not available. So, to light up your outdoor space for security, adding a
solar light
is always one of the best means.
Photocell and Motion-Activated Dusk to Dawn Lights
Surely, most outdoor lights are made with photocell technology to avoid illuminating the outdoor light during daylightBy the
use
of
photocells for power
,
dusk to lights
can
detect natural light and turn on the lights after sunset. They also shut everything down when the sun rises, so nothing burns power during the day.
Aside of
work
ing
as simple at-home security systems
, these
photocell dusk to dawn lights
also accommodate seasonal shifts in daylight.
Not only that, with its
built-in
photocell
sensor inside
,
dusk to dawn light bulb
can
automatically adjust for longer and shorter nights
as well, which perfectly saves the lifespan of the light and energy.
Lighting Tips:
Nowadays
,
dusk to dawn light
bulbs are commonly
adopt to an
a19 bulb
with an
e26 base
. But for those who h
ave a light fixture with a smaller
base
than a traditional
e26 bulb base
,
we also
offer
a candelabra
dusk to dawn light
bulb
here
.
Candelabra bulbs
are characterized by their relatively
candelabra
base
and tear-drop glass shapes.
Get motion-activated lights Motion-activated lights are cheap these days, and they're a simple deterrent which can put off opportunistic burglars
.
Motion sensors keep lights turned off unless something moves nearby. Unlike many dusk to dawn lights, they don't activate for long periods of time. You can usually select how long you want these lights on. Some allow homeowners to select activation periods as short as five seconds and longer than 10 minutes at a time. Motion sensors are a common form of outdoor lighting, but they don't keep the yard lit all night long. Instead, they're used in situations where you only need light when someone's nearby. You can install them in backyards to let pets out at night or as theft deterrents around your home's exterior.
The Difference between Photocells and Motion Sensors

- Functions
If you want to have an in-depth
knowledge about
how to enhance your home lighting and security system
, you must e
xplore the differences between photocells and motion sensors
.
Both as the
electronic devices you can use to manage indoor or outdoor lighting
, p
hotocells and motion sensors improve the security and safety of your home, automatically turning on lights when it gets dark or they detect motion. They also save energy by turning themselves off when extra light is unnecessary.
Like the same thing, right? They have different function.
While the
photocells is
commonly used to
turning exterior lights on at sunset and off at dawn
, the motion sensors are often used to turn on outdoor lights when they detect movement in their coverage area.
More Ways to Secure Your Home
:
What are the Benefits of Installing Dusk to Dawn Light
Your Guide to Porch Lights and Home Safety
Keep Your Yard Lit and Safe with An Eco-friendly
S
olar Light
Take LOHAS LED Yellow Bugs Lights to Keep Bugs Away Now
Upgrade Your Life with an Dusk to Dawn Light Bulb
All in all, adding the right o
utdoor
security
lights are one of the most cost-effective ways to help keep your home safe.
Both solar lights and
d
usk to dawn lights
help you illuminate your home's exterior after dark. Whether you want a simple security feature that casts spotlights on specific areas or an automatic way to control path lights, these fixtures can help with the job.