[Foyer Ideas] How to Build a Well-lit and Warm-welcoming Entryway

Hey guys I know most of you have not paid much attention to your foyers' decorations. But as the first place that anyone enters your house will pass through, your entryway design does set the tone for your entire house. And a good foyer lighting idea can create a warm welcome ambience and make a great first impression on your visitors. So if you're searching for any functional and attractive foyer lighting ideas, keep reading.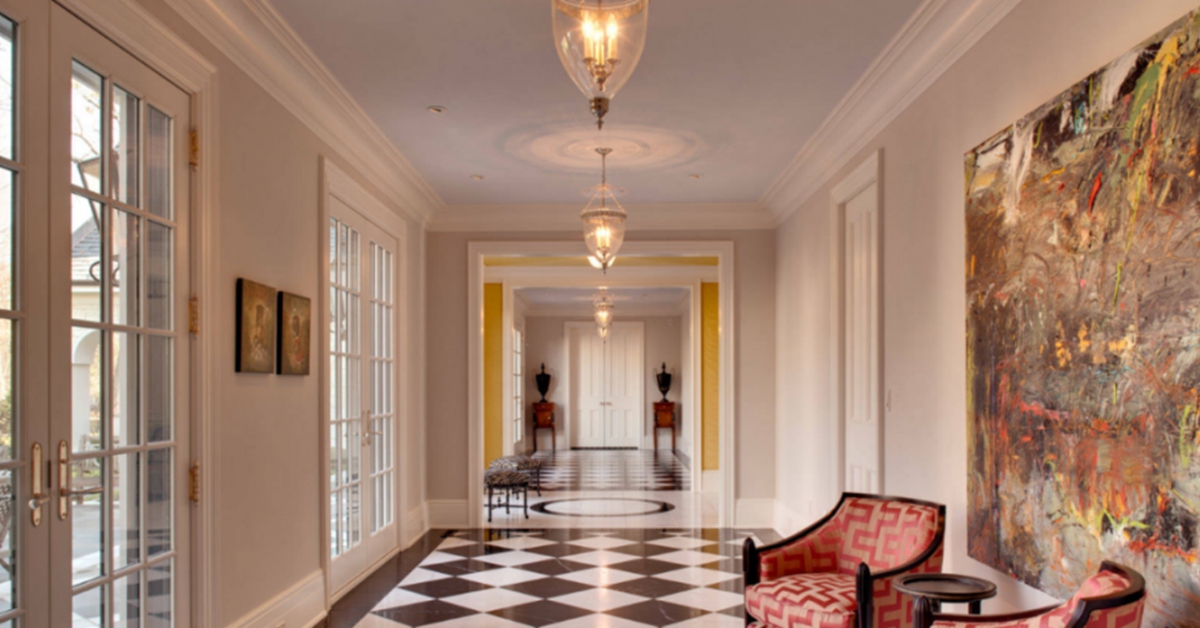 CONTENTS:
Tips for Choosing a Foyer Lighting Fixture
2 Stunning Entryway Light Bulbs that Give Your Guest A Warm Welcome

Choosing the right foyer lighting fixture can be tricky. Since the entryway is where you create the first impression of your home, you need to make sure you get the right one. Fortunately, here are some practical tips to help.

In a general foyer, the bottom of your light fixture should be at least 7 feet above the ground.

In a single-story foyer with a high ceiling (up to 9 to 12 feet), the bottom of the light needs to be no less than 7.6 feet from the ground.

When the foyer is two stories high, place the bottom of the light fixture level with the second floor, which also means the installation may be 8 feet or more above the ground.

If you still have no idea on choosing the right foyer lighting fixture, here's our top pick for your reference - LOHAS LED pendant lamp. This simple and stylish foyer lighting fixture is compatible with all ceiling styles. More than that, it comes with a 24 inch adjustable chain, allowing you to adjust the length as needed, so it fits foyers of different heights. In addition, made of sturdy aluminum steel and transparent glass, its durability and light transmittance is ensured. The last but not least, with its open bottom design with E26/E27 medium light base, light bulb replacement becomes a breeze (fitting the e26 bulbs or e27 bulbs with various function, types or bulb shape). All in all, LOHAS LED pendant lights can be a great foyer lighting fixture to choose from.





To create a warm-welcoming ambience for your entryway, the light bulbs you screw there should emit a bright and warm light. So, whenever you choose the bulbs for your foyer lighting fixture, remember to check its Kelvin rating (Color Temperature), among which, the bulbs with 1800K to 3000K color temperature gives off a warm, yellowish light is an ideal option. Also, the bulb works only when you choose the right light bulb base size, so make sure you've chosen the light bulb base that fit your lighting fixture well. Then, pay attention to its function, energy consumption, lifespan, etc.

Below are two kinds of LED light bulbs from LOHAS LED that can help you get a stunning entryway for your family and guests.


Dusk to dawn light bulb is an ideal lighting choice for entryway. Thanks to the built-in photocell sensor, it can automatically turn on when it's dark and off again at dawn, so manual operation is not required. That's said, all you should do is to screw this led dusk to dawn light bulb into your foyer lighting fixture and keep the light switch on. In this way, a bright and warm light will greet your family and guests when they come into your house. Not only that, equipped with standard e26 light base, it can fit most light sockets. And in order to meet your different lighting needs, we made them with different lumens of 2700K, 3000K and 5000K, so there is always the one that you will prefer to.



If you are looking for the bulb that come with more stunning functions, the smart light bulbs, especially the color changing light bulb, must be your favorite. Offering over 16 million colors and tunable white from 2700K warm white to 6000K daylight to choose from, LOHAS LED smart wifi light allows you to create multiple amazing atmospheres in your entryway. As a great Philips hue alternative, all of our smart lights require no hub to control. Just connect it to your smart assistant for voice control, or install LOHAS Smart App or TUYA Smart App on your smartphone for remote control, including switching, changing colors, dimming, timing, etc. With various bases, shapes, and lumens they come with, this smart LED light bulb must be a lighting idea not only for your foyer.

Technical Details Comparison of LOHAS LED Edison Screw Based Bulbs


e26 color changing light bulb

e26 dusk to dawn light bulb

e26 yellow led bulb

e12 color changing light bulb

e12 smart bulb
Price
$21.99/2 Pack
$25.99/4 Pack
$19.99/4 Pack
$26.99/2 Pack
$29.99/2 Pack
Lumen
450LM
500LM
450LM
450LM
810LM
Watt
(Replacement Watt)
8W
(60W Equivalent)
6W
(40W Equivalent)
5W
(40W Equivalent)
5W
(40W Equivalent)
9W
(60W Equivalent)
Light Color
RGB &
Cool White
Daylight White
Orange Yellow
RGB &
Tunable White
RGB &
Tunable White
Color Temperature
2700K-6000K
5000K
2000K
2700K-6000K
2700K-9000K
Shape
a19 bulb
a19 bulb
a15 bulb
candle
candle
Key Functions
Controlled by Voice and APP
Auto Turn ON or OFF
Provide sufficient illumination
without attracting bugs
Controlled by Voice and APP
Controlled by Voice and APP
Dimmable
√
×
×
√
√




Good foyer lighting can let your guests feel warm-welcoming. In this post we've talked about how to choose the perfect lighting fixture and light bulb, and shared our top picks. If you're interested in any items we mentioned above, just click on the link to learn more.