LOHAS LED Dusk to Dawn Light Fixture for Improving Security Outside
Being fed up with flipping the switch to control your outdoor lights? Now, it's time to have a dusk to dawn lighting fixture.
T
o help you complete your dusk to dawn porch light with ease, we prepared some awesome porch lighting fixture choices and dusk to dawn bulbs' comparison.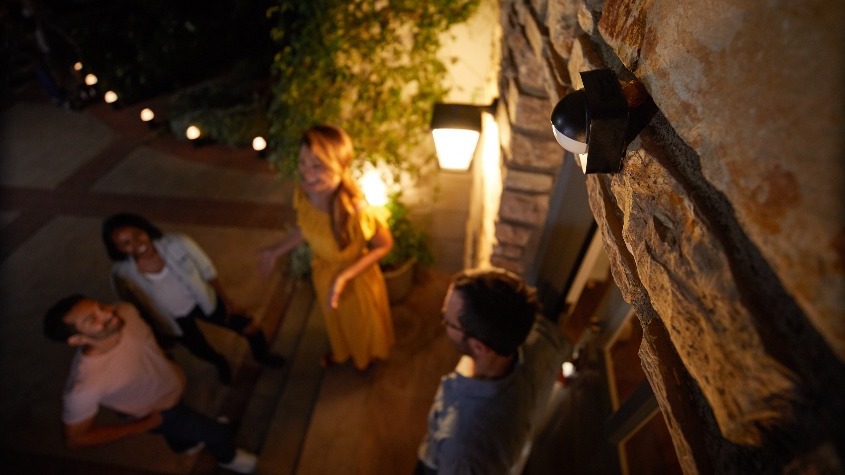 CONTENTS
:
What Does Dusk to Dawn Light Fixture Mean?
Pendant Light from LOHAS LED Improves Security & Safety
Vgogfly vs LOHAS LED Dusk to Dawn LED Light Bulb

Having a

dusk to dawn light bulb

screwed in a wall/pendant lamp can regulate when the light turns on/off. Dusk to dawn light fixture is quite "smart" and can turn on automatically when the sun sets (at dusk) and turn off again when light returns (at dawn). In this case, having these fixtures outdoor can perfectly free your hands, as you no longer need to control the light manually like pressing the switch button, setting light timers or using any complicated apps.





With a matte black finish, adjustable hanging chain and clear glass, LOHAS LED Pendant Light can be hung outside to improve home security & curb appeal, and it's also applicable in indoor commercial or residential lighting and decoration. Let's see what attractive advantages LOHAS-LED Pendant Light offers.



• Improve Security & Safety

Most people prefer to install wall sconces or pendant lamps to make their outdoor spaces well-lit. Because brightening outdoor spaces with pendent lights at night can effectively deter the burglars to ensure maximum home security. More than that, they also reduce ambush-style attacks on your way home and avoid accidental falls as guide lights when returning to your unattended dark house from outside.



• Easy Installation

Packed with mounting accessories and user manual, LOHAS LED Pendant Lamps just take you a few minutes in several simple steps to complete the installation effortlessly. For more convenience, this pendant light was considerately designed with an open bottom which helps you install or replace the bulb easier.



• Wide Application
With standard medium base sockets, our multipurpose pendant lights are well-matched with incandescent, LED, CFL or Edison bulb types with standard E26/E27 bases like T45, ST48, G45 and
A19 dusk to dawn bulbs
to light up your home. Designed with adjustable chains, they can be hung on all ceiling surface types including a flat, slanted and vaulted ceiling, which makes it versatile to provide inviting and automated lighting for front porches, patios, foyer, garages, pathways, alleys, and any other spaces where the light is needed.
• Waterproof and Elegant Design

When hanging the dusk to dawn lights outside, make sure to screw them into sturdy light fixtures. Each LOHAS LED pendant lamp is crafted from the waterproof and rust-resistant frame and clear glass panel to put up with the outdoor environment like snow, rain, burning sun, and wind. What's more, its stylish and elegant outlook complements perfectly any home decor from vintage to modern style and casts an inviting ambience to your exterior home.





Most home lighting users may know the amazing features and advantages dusk to dawn lights bring and even have already used them, but it is still not an easy thing for them to choose the right cost-effective one in numerous dazzling light bulbs on the market. Here, we take two brands of dusk to dawn light bulbs for example and make a comparison of them to help you differentiate and find the right bulb you need.
Vgogfly Dusk to Dawn LED Light Bulb vs LOHAS LED Dusk to Dawn LED Light Bulb

Vgogfly Dusk to Dawn Bulb

- Not very durable & long lasting
- Consume 20% less energy
- Slightly Expensive


+ Lifespan of 30000hours
+ Saving 85% Energy Consumption
+ More affordable Price
+ Eco-Friendly
+ Various Types

Vgogfly Dusk to Dawn Lights
Vgogfly dusk to dawn lights automatically turn on at dusk when the illuminance is less than 20 LUX and turn off at dawn when the illuminance is greater than 30 LUX. Compared with conventional incandescent lamps, these 7W sensor lights are energy-saving LED bulbs that consume 20% less power. Plus, durable aluminium plastic shade & superior led chip features good dissipation to ensure a long lifespan. Having an E26/E27 bulb base & 2700K warm white, they are usually used with wall sconces or pendant lamps to provide lights indoor or outdoor, such as stairs, porches, yards, garages, gardens and foyers. Vgogfly offers 12-month-replacement quality assurance for customers to order confidently.
With only 6W low energy consumption, LOHAS A19 LED Dusk to Dawn Bulbs emit a similar 500LM brightness as a 40-Watt incandescent, which saves up to 85% of your electric bill and lasts up to 30000 hours. Once screwed into your existing light fixtures, this E26 LED bulb with dusk to dawn sensor can smartly turn on and off, so you will no longer have to think about whether you turned the light on or off daily. What's more, each set of the light bulbs from LOHAS LED comes with 4 packs at a more competitive and affordable price of $18.99. Therefore, it is also a wallet-friendly option and an eco-friendly piece without any lead or mercury. Giving off a cozy and fresh look with 5000K daylight white for any space as security outdoor lights.



By comparing the above two dusk to dawn light bulbs, we can clearly see that LOHAS LED Dusk to Dawn Light Bulbs boast more advantages than the bulbs of Vgogfly. To go more specific, LOHAS LED bulbs produce similar brightness but save more energy and last longer than the ones from Vgogfly. Plus, LOHAS LED 4-pack light bulbs win out in price. That said, you spend similar money but get more packs of bulbs in full functions. More importantly, LOHAS LED store is available in varying sorts of dusk to dawn lights in base types, color temperatures, connection methods, brightness and wattage so as to fit every household fixture.




By having the dusk to dawn light fixture, your house will be more secure. Nobody wants to break into a fully illuminated place after all. And if you're now searching for an affordable way to outfit your outdoor with dusk to dawn light fixture,

LOHAS LED

is a great choice. Just view our

product page

to find your desired items.