How can I Get Porch Lights Work with No Power?
Keeping the
porch light
s
on is a traditional welcome home sign
, as it will light up your porch when you get home at night, helping you find your way around and avoid obstacles in the dark. Having porch lights on can also deter burglars who want to break in while you're out. That said, porch light is really an essential outdoor lighting for your home.
Up to now, there are divers porch lights for you to choose from on the market. But for those whose porches include no power outlet for lighting, how can they brighten and make the most of outdoor space at night? That is, get your outdoor porch lights work with no power.
HOW?
In this post, we've share some tips here, just read on.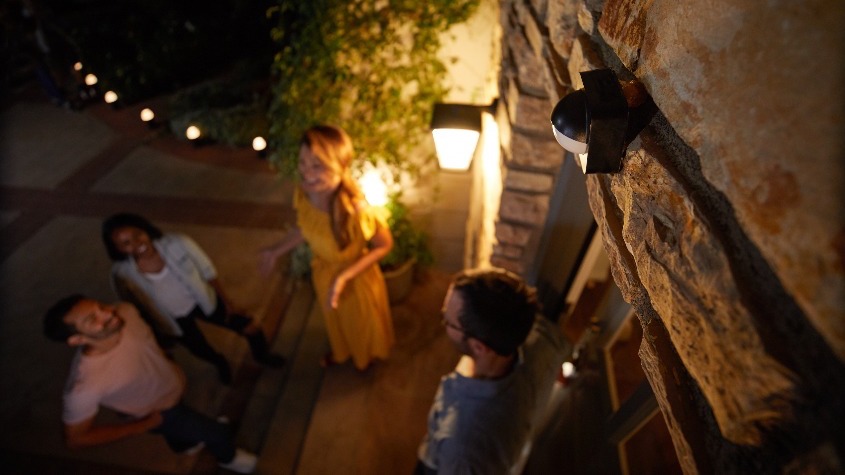 Contents:
2 Solutions to Brighten Your Porch without Electricity
Placing Porch Lights into Fixture to Avoid Weather Damage
Best Porch Lights Placement to Produce Better-lit Effect
Lights with light sensors and photocells can make your home safer and more convenient, as they will automatically turn on when it gets dark and turn off when it is dawn, greatly saving energy. More over, they provide light without electricity.
The LOHAS LED dusk to dawn sensor light bulb is 6W a19 bulb with an e26 base. With the use of light sensor technology, this dusk to dawn light can detect the intensity of light to turn on automatically when it's dark, and turn off when it's dawn, so it only glows when the external environment is not bright enough. Not only that, because they are reactionary, they require far less maintenance, and all you need to do is just installing. Once you've installed them, they don't need you to power them anymore. Therefore, dusk to dawn light will save you a lot of energy!
500 Lumen
and
5000
K daylight(crystal) white,
giv
ing
off a cozy and fresh illumination.
With a power of 6W,
this dusk to dawn LED bulb can replace a
40W
incandescent light bulb and save
you
up to 85% electricity bill.
With
a long lifespan
up to
30000 hours
,
greatly
reducing the frequency of re-lamp.
C
ontain
ing
no
lead or mercury
,
emitting no
UV or IR
, they are safe and environmentally friendly.
This solar light from LOHAS LED is a kind of dusk to dawn light. That said, once installed, there is no need to manually turn on the porch light at night. Built-in photocell solar panels, powered directly by the sun, so no cables are needed. After fully charged they can work continuously for 6-8 hours, which means they can bring brightness to you throughout the night. Although small in size (size: 3.93*2.24*1.18 inches), the lights they illuminate is bright enough for your surroundings as they come with 8 LED chips and emit daylight white 6000K. In addition, IP65 ABS plastic solar panel is used to ensure that the solar light can be in a variety of harsh environment, long-term reliable work. CE, ROHS, FCC certifications further ensure the quality and safety. No wires are required for operation and connection, and its small size makes it ideal for all applications outside the house, making it an optimal choice for
porch lighting
.
After your getting any lighting solutions that allow you brighten your porch up without electricity, it's time to complete your secure porch lights via placing them into any fixtures. Why? Although most lights are equipped with a solid enclosure, their performance and illumination can only be guaranteed when they are properly protected. So, whether you are the first time to install lights on your porch, or just want to change a new one. It is necessary to place them into porch lighting fixtures to protect them from being exposed to bad weather. In addition, installing your lights in the fixtures can keep them clean and tidy, hold them in place and prevent them from swinging or falling. All in all, placing your porch lights to
wall lamp
,
pendant lamp
or other lighting fixtures will do maintain a good performance and long service life.
I
t is usually recommended to place two lights on the front door, one on each side, and a single fixture for the side or back door.
But how to place your porch lights to get a better-lit effect? For a comfortable vision and maximum illumination, the porch lights should be placed between 65-57 inches above the ground or porch floor. When your door is taller than normal, the lights can be placed higher. The optimal position is about three quarters the height of the door, so that you
'
re not dazzled by the lights as you approach or enter the door, and they are also high enough to illuminate the area around the porch. And, if your porch lights are solar-powered, you'
d better place them in an outdoor space with direct sunlight for 6-8 hours a day so they can be fully charged. Plus, remember not to install your outdoor porch lighting near other artificial light sources, because too close can cause sensors to malfunction, weakening the lighting effect.
Change your porch lights into dusk to dawn lights or solar lights can perfectly do help to save your outdoor space and free up your hands. More than that, brighten your porch with no power. What are you hesitating about? Click the link and make the outside of your home as welcoming as the inside.