Lighting Tips for Small Living Rooms
As more and more people prefer to live in the small size apartments, special needs of compact and space-saving furniture and equipment for small living rooms are gradually increasing. Among which, the lighting scheme of a room is an essential part of the home design process, making or breaking how it feels to live in the space.

Choosing a right lighting to your small space needs to be thought out, especially paying attention to how much room the lamp occupy and whether it is in perfect harmony with the home decor. To help so, here's a few lighting tips for small living rooms. Let's have a look.




C
ontents:
2 Space Saving Lamps for You to Consider
Choose Bulbs to Make Your Lamp More Functional

For small living rooms, the chosen lighting fixtures should neither be too dull nor luxury. That's because, the normal traditional lighting can only keep your space well-lit but cannot foil perfectly to your home decor, while the luxury one may make your guest feel more pressed in a small space. So the ideal lighting fixtures of small living room should go for any space-saving lamps with daily lighting and decorative effect like

floor lamp

or

pendant lamp

. Just scroll down to get more details about these two space saving lamps.



With a
blend of decoration and lighting
, floor lamp is perfectly an ideal lamp for
your
small living
room to create a serene and elegant atmosphere. P
ick
ing
up
the right floor lamp can
create a unique look and change the style and atmosphere of your
small living room, and with a variety types of design schemes people have taken, the lamp that can
rolls modern and vintage style into one
is great. In this case, w
ell crafted from slim metal lamp post with classic and modern black finish, LOHAS
LED
floor lamp
is all your need, as it can
fit well with most furniture and home decor, mid century modern, traditional or contemporary.
Then, c
om
pacted
with a
n
warm
white
a19
bulb
, this
modern
floor light produces a soft glare-free illumination
to
create a cozy and sweet atmosphere to your home,
making it
ideal for small spaces of living room, bedroom, baby room and more. Plus, another unique and practical design is that the
head
of these led floor lamp
can be 270°adjusted to any direction you need, which offers better protection to your eyes.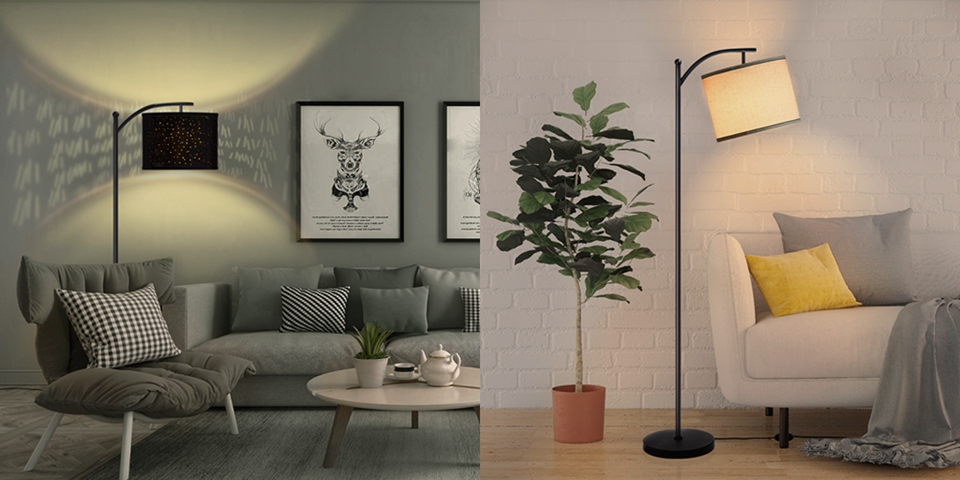 Pendant lamps
are both lighting fixtures and artful additions to home ensembles
, and can fit your small living rooms well because of their grand appearance.
Engineered with sturdy aluminum steel frame with matte black finish and clear glass panel, this compact and exquisite lantern light merges the best of traditional and modern style, perfectly brightening & decorating your exterior or interior house.
Then, with its
24" adjustable chain makes the lamp reach up to a maximum length of 31.8",
LOHAS LED pendant lamps are more than
porch lights
, but
perfect to hang in the kitchen island, dining table, small living room, patio and other places without taking up
ground
space. More than that, you can
hang one or more pendants and
customize the desired length
according to the
overall
height and
room style
of your living room
. Additionally, this pendant light is compatible with all ceiling types including flat, sloped, slanted and vaulted ones and also fits various light bulbs like T45 light bulb, ST48 light bulb, G45 light bulb,
E
26 bulb
(Not Included), convenient & versatile for
different home layouts
. For added convenience, the open bottom enables you to install or replace the bulb without hassle. Just hang from the ceiling
to brighten the whole living room up
without occupying any floor space whatsoever.

If you want a bulb to provide a perfect foil to your stylish and artistic light fixtures, taking the one that can fill your home up with vivid, colored light to creates a warm, elegant, festive or lively atmosphere here is all your need. To help so, three types of bulbs are introduced below for your reference.



Bright Color Bulbs

How you choose and place furniture will indicate whether you have made a perfect use of your home space. For example, in order to greatly saves space for your small room, you can choose the furniture with an open bottom above the floor and then put your floor lamp base under it. The bulb is exactly the same. Aside of letting you cannot see the house items clearly, screwing dark color bulbs in your lamp will also make the space feel enclosed and depressed. Instead, bright color bulbs provide a right amount of luminosity to restore the true color of the objects, helping you 100% focus on your cooking, reading, and other daily tasks. Now, forget the dark one and switch it to a bright color bulb to brighten your whole room up!




Dusk to dawn sensor bulb is an optimal light bulb for floor lamps or pendant lights for you to use both inside or outside your home. Equipped with a built-in photocell sensor and long lifespan led chips, dusk till dawn light can detect light and automatically turn on at night and off during the day and works over 30000 hours, freeing your hands and avoiding waste of energy & electricity bill. Plus, when you're away from your house on vacation or you come back home late after work, it can not only light up you way in advance but also enhance the security of you and your property as well during your absence. Thus, dusk to dawn LED bulbs are widely suitable for patio, hallway, yard, garage, storage and indoor places like living room, bedroom, kitchen, or bathroom.



Want a

"

smart

"

lighting in your living room to make your life smarter and bring your home space special feelings? The upgraded bulbs, smart wifi bulbs realize the unique and fabulous functions of remote & voice control, making them now compatible with Amazon Alexa, Siri, Google home, Echo, FITTT and so on. In this case, only a tap from your smart phone or voice command you should to control the lamps from a distance for turning on/off, adjusting brightness or changing color temperatures in any room at home. Also, i

f you are the one who like

s

to host some part

ies

or have buffet

s

in your living room, you can consider adding

a

color changing light bulb

, which allows you to s

witch millions of colors freely to create your favorite ambience and mood for various scenes like parties, relaxation, sleeping, reading, and more.
Price

$26.99/2 Pack

$23.99/2 Pack

$21.99/2 Pack

$24.99/2 Pack

$19.99/2 Pack

Lumen

450LM

450LM

450LM

720LM

380LM

Watt
(Replacement Watt)

5W
(40W Equivalent)

5W
(40W Equivalent)

8W
(60W Equivalent)

8W
(50W Equivalent)

5W
(50W Equivalent)

Light Color

RGB &
Tunable White

RGB & Tunable White

RGB &
Cool White

Daylight White

Warm White

Color Temperature

2700K-6000K

2700K-6000K

2700K-6000K

5000K

2700k

Shape Type

C35

C35

Spotlight

Base Type

Key Function

Controlled by Voice and APP

Generate over 16 million light colors

Generate over 16 million light colors

Controlled by Voice and APP

Controlled by Voice and APP

Dimmable

√

√

√

√

√




To make your room feel big as opposed to stuffy, getting the right lighting fixtures and light sources according to your preference is a must, and the multifunctional light bulbs can also bring your small living to a new level. Use these tips to dress up your living room right now, and you will find that small space can show a perfect view of simple, elegant and atmospheric decor.