Best Floor Lamp 2020 - Find the Right Light for Your Home Space
The
f
loor
l
amp
is a
lighting
with both beauty and utility. In terms of appearance, floor lamp usually adopts simple, elegant and decorative design, which can also well decorate and beautify the home space while it is not used. "Easy to move and install" is the most distinctive feature of floor lamps. They can be easily placed in any corner of the room, providing a strong natural light to illuminate specific areas and improve the atmosphere of your home space, such as living room, home office, storage, etc.
However, choosing the right floor lighting is not easy. Before buying a floor lamp, you should consider factors such as the size of your space, the decoration style of your home, your budget and how bright you want it to be. So in this article we will recommend you six general styles of floor lamp you can choose from.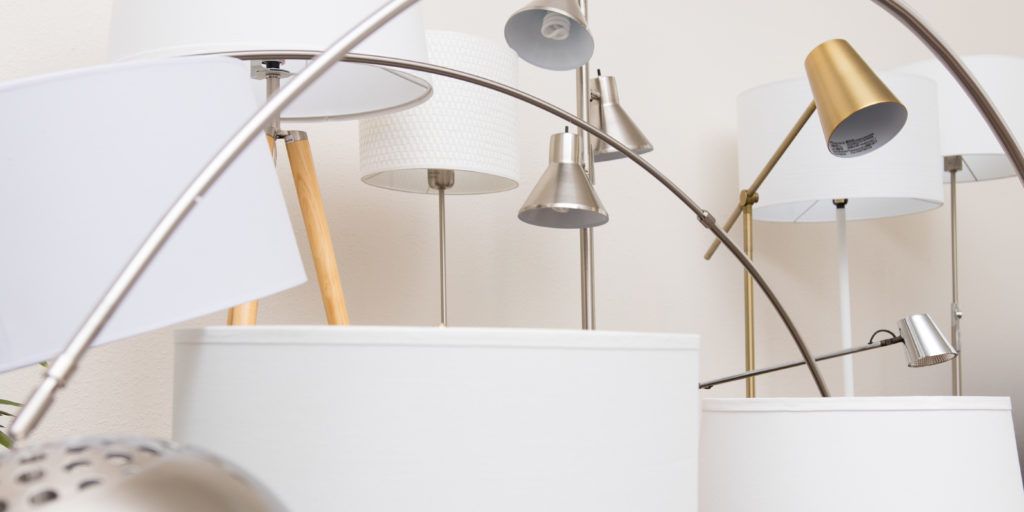 The minimalist and stylish design with warm light tones makes this floor lamp
from
LOHAS LED
perfectly
suitable for any
room of
modern or traditional decor.
Having a
linen drum light shade
then
paired with an
long lifespan
warm white
a19
bulb
(
e26 bulb
)
,
it not only
sav
es
lots of energy
and
90% electric
ity
bill
s
in comparison to halogen or incandescent bulbs
, but also
creates a
sweet and
cozy atmosphere
for you
in any room.
This
61-inch
high
, 270-degree adjustable elevated upright floor lamp
allows y
ou
to
rotate the lighting in any direction and
move
it
around effortlessly
you
need. Besides, with a strong versatility and compatibility, this lamp can act as a
smart wifi light
that is suitable for most home smart outlets, such as Alexa, Google Home Assistant and Apple HomeKit. With the design of convenient foot pedal switch and round weighted non-slip base, you can easily turn the floor light on/off and use it safely. Plus, with an e26 base that is the most common base size of any household lamps in U.S., you can convert the included bulb with other types of
e26 light bulb
, like
dusk to dawn light
,
smart bulbs
or
color changing light bulb
etc..
Technical Details Comparison of LOHAS E26 LED Bulbs


e26
smart bulb

e26 dusk to dawn light bulb

e26 yellow led bulb

e26 smart retrofit downlight

e26 led daylight bulb
Price
$21.99/2 Pack
$25.99/4 Pack
$19.99/4 Pack
$25.99/Pack
$29.99/4 Pack
Lumen
450LM
500LM
450LM
680LM
2500LM
Watt
(Replacement Watt)
8W
(60W Equivalent)
6W
(40W Equivalent)
5W
(40W Equivalent)
10W
(65W Equivalent)
23W
(150 - 200W Equivalent)
Light Color
RGB &
Cool White
Daylight White
Orange Yellow
RGB &
Tunable White
Daylight White
Color Temperature
2700K-6000K
5000K
2000K
2000K-9000K
50000K
Shape
A19
A19
A15
Round
Candle
Key Functions
Controlled by Voice and APP
Auto Turn ON or OFF
Provide sufficient illumination without attracting bugs
Decoration
Controlled by Voice and APP
Light comes on instantly when turned on
Dimmable
√
×
×
√
×
Or, if you find the bulb you want to screw in only has
candelabra base
, get an e12 to e26 adapter to help with. These adapters can be used to transforms your standard
e12 bulb
to fit in any e26 base fixture. The transaction is quite simple, all you need is to screw the socket adapter into your current e26 type medium base socket and you are ready to use an
e12 candelabra bulbs
.
Technical Details Comparison of LOHAS E12 LED Bulbs


e12
smart bulb

e12 color changing light bulb

e12 filament vintage light bulb

e12 filament vintage light bulb

e12 decorative cylindrical bulb
Price
$26.99/2 Pack
$29.99/2 Pack
$22.99/6 Pack
$29.99/6 Pack
$18.99/3 Pack
Lumen
450LM
810LM
400LM
600LM
1100LM
Watt
(Replacement Watt)
5W
(40W Equivalent)
9W
(60W Equivalent)
4W
(40W Equivalent)
6W
(60W Equivalent)
12W
(100W Equivalent)
Light Color
RGB &
Cool White
RGB &
Tunable White
Warm White
Warm White
Warm White
Color Temperature
2700K-6000K
2700K-9000K
2700K
2700K
2700K
Shape
Candle
A19
ST48
Beam angle:
330°
Candle
Candle
Key Functions
Controlled by Voice and APP
Controlled by Voice and APP
Decoration
Decoration
Decoration
Dimmable
√
√
√
×
×
This floor lamp from Brightech Sqarq has an appearance of black tall arched lamp-post, which looks like the simple and smooth curves. With a maximum diameter of 45 inches, a height of 67 inches and a heavy base of 9 inches wide, you can stand the lamp firmly behind the sofa and it will still shine brightly overhead so that you can sit on the sofa for reading without taking up too much space. With a power of 15 watts, luminous flux up to 2000 lumens and 3000K warm light, it provides you with a bright and safe reading environment. It is worth noting that this floor lamp is dimmable and you can choose between three brightness levels (from a soft ambient glow for relaxing to super bright) by pressing the power button as needed for your space. Unfortunately, because of the built-in dimming feature, the Sparq is not currently compatible with wall switches, smart plugs, or any
smart home devices.
Brightech Maxwel
l
'
s
f
loor
l
amp
is both a lamp and a shelf. Why? At the top is the light source, and below are 3 shelves (each shelf size: 10" * 10" * 15"), on which you can put many things, such as books, remotes, plants, art etc. Whether you want a bedside table in your bedroom, or a floor lamp in the living room, this shelf floor lamp with a narrow body can not only help you save the floor space, but also beautify you home. Moreover, the Brightech Maxwell floor lamp includes a 9.5W, 800lm, 3000K warm white light LED bulb, providing safe lighting and saving money and energy for your home. Last but not least, it has also a compatible combination of an end table with accent light built in, you can turn your lamp on/off with Alexa, Google Home or Apple Home Kit.
The
Brightech Tree
floor lamp, a multifunctional floor lamp for home office. It
has 3 omnidirectional LED fixtures that
can be
pivot
ed
360°.
The lamp is just over 60 inches tall, with the heads resting at 44, 51, and 57 inches high along the pole and its arms can either be folded more inward towards the body or extended outward for a reach of 7 inches, which can suit your lighting needs and also helps save home space. With the adjustable panels you can swing down the light for home office and crafts or rotate up to reflect off the ceiling to brighten all corners of your room. The built-in LED bulbs have 23 watts of power (7.6W per head), illuminate 1856 lumens, emit 3,000K warm/yellow light. And there are diffusers on the panels so that keep the light soft and protect your eyes well. With a built-in dimmer, it allows you to adjust different levels of brightness (100%-50%-20%) you need. But pay attention, this lamp cannot be dimmed using an external dimmer at this time.
The best choice for your living room is this modern art deco-inspired lamp from Stone & Beam. This floor lamp has a simple design of four-legged base with a classic white linen shade (height: 59.5", width: 18"), which makes it suitable for any style of living room. If you don
'
t know how to select a right floor lamp for your living room, no doubt, this lamp will be a good choice. The base is rugged and the four-legged design gives you plenty of stability. Besides, as the lamp holder is made of metal, it is very durable and easy to clean. Equipped with an E26 LED energy-saving bulb, which has a long lifespan. You can certainly reduce the frequency of re-lamp and save a ton of electricity bills.
Space saving and chargeable are the brilliant features of this table-lamp from Brightech Madison. A combination of lamp and table design, the upper part is the lamp, and the shade is held by a metal arm which bends artfully before running straight down to meet the
"
base
"
. The lower part is a two-tiered table, providing you with a perfect space to store your vases, art, books, DVDs or other small objects. To your surprise, this lamp has two USB ports and an outlet so that you can charge your mobile devices or plug in your computer conveniently. It
'
s really an amazing design for those who have to get up to charge their phone when it suddenly run out of juice. Included a 9.5W long lifespan energy-saving LED bulb, providing 3000K (natural warm white) and 800 lumens, narrow body (18" * 18" * 48"), which can be worked with smart outlets that are Alexa, Google Home Assistant or Apple HomeKit, makes this LED floor lighting especially suitable for bedrooms and create an intimate and relaxing atmosphere.
A good floor lamp can
provide direct light right where it is needed and change the space atmosphere
, whether it is reading
,
general lighting
or
decoration,
should
be
wisely
chosen
from a variety of floor lamps.
The above
are some of the great floor lamps we recommend to you
, hope there is the one meet your needs.