E12 Bulb vs E26 Bulb: What's the Difference?
Whenever you go over to the light bulb section at the hardware store, you've probably seen bulbs with base sizes like e26 or e12 base. What exactly is the difference between these two sizes and how does the bulb base size difference affect your choice? Just keep reading to find out the difference between e12 bulb and e26 bulb.

Buy amazon e12 bulbs with discount
Buy amazon e26 bulbs with discount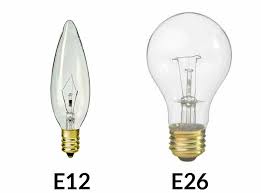 Reference: Edison Screw from Wikipedia

Belonging to Edison screw base, e12 bulb base and e26 bulb base are two commonly-used thread size that groups for main supply lamps. So, when it turns to the difference between an e12 light bulb or e26 light bulb, let's make clear what do screw base exactly mean and how do they work ahead of all.
What are screw bases?
Edison screw base is a standard light bulb socket for electric light bulbs, which has now displaced other socket types for general lighting in North America and continental Europe. Similar to the light bulb shapes' naming rule, the "E" indicates that the bulb has an Edison base and the numerical part is the diameter of the base in millimeters. Therefore, an e12 bulb refers to the bulb with a base diameter of 12 millimeters while an e26 bulb is 26 mm in diameter.

How do screw-based bulbs work?
In an incandescent or halogen screw base light bulb, two contact wires connect the filament to the base of the light bulb, where the electrical voltage connects to the light bulb. The contact wires are soldered to the base metal at two different points on the base in order to keep them affixed to the base metal.

If the contact wires were not permanently affixed to the base metal, electrical current would not be able to continuously flow through the wires to energize the filament into producing light. One of the contact wires is soldered on the side of the base, and the other is soldered at the bottom. Therefore, the light bulb makes electrical contact at two points on the base.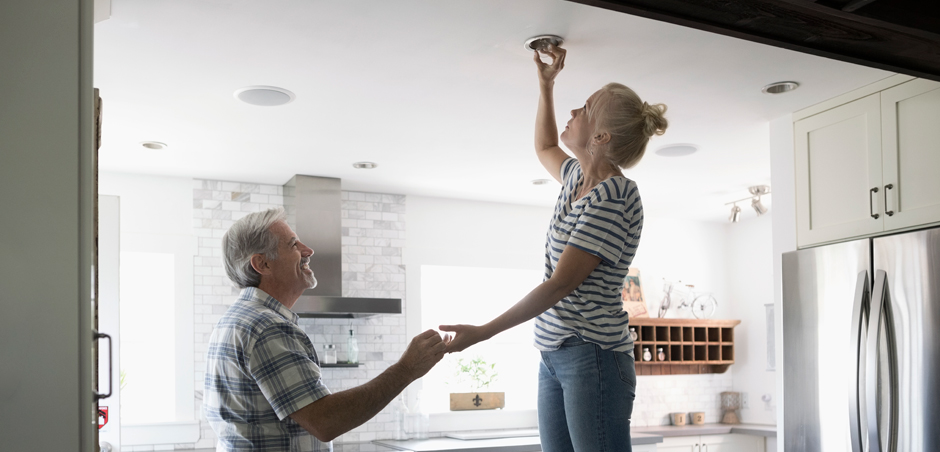 Governed by the IEC standards, manufacturing of Edison screw bulb bases have the required dimensions for E26 and E12, respectively. And despite what is commonly described as 14 mm difference between E26 and E12 screw dimensions, their length of screw and insulator height requirements are totally different.

cannabis grow tutorials

Below are diagrams and specifications comparing E12 to E26:
Mechanical Difference between e26 base and e12 base

| | Length of screw (min) | |
| --- | --- | --- |
| | | |
| | | |
Apart from their different diameters, e12 bulb and e26 bulb are also designed to diverse usages for them to work better in different spaces of your home.
E26 LED Bulb
E26 led bulbs are primarily used in North America, which commonly screwed in standard light fixtures to act as general lighting, such as ceiling lights, lamps, can lights, porch lights and flood light fixtures, and vanity lights. Bulbs with these base types are available in many different styles.



Common bulb shapes with E26 bases:


A-shaped bulbs: A19, A15, A21
Globe-shaped bulbs: G30, G25, G16.5
PAR spotlight and flood light bulbs: PAR16, PAR20, PAR30, PAR38
BR (bulged reflector) spotlight and floodlight bulbs: BR20, BR30, BR40
LOHAS LED E26 Bulbs


e26
smart bulb

e26 dusk to dawn light bulb

e26 yellow led bulb

e26 led daylight bulb
Price
$21.99/2 Pack
$25.99/4 Pack
$19.99/4 Pack
$29.99/4 Pack
Lumen
450LM
500LM
450LM
2500LM
Watt
(Replacement Watt)
8W
(60W Equivalent)
6W
(40W Equivalent)
5W
(40W Equivalent)
23W
(150 - 200W Equivalent)
Light Color
RGB &
Cool White
Daylight White
Orange Yellow
Daylight White
Color Temperature
2700K-6000K
5000K
2000K
50000K
Shape
A19
A19
A15
Candle
Key Functions
Controlled by Voice and APP
Auto Turn ON or OFF
Provide sufficient illumination without attracting bugs
Light comes on instantly when turned on
Dimmable
√
×
×
×

E12 LED Bulb -
Candelabra Bulbs
Popular in North America either, bulbs with e12 bases are commonly used for decorative applications, such as chandeliers, wall lamp, Christmas lights, restaurant pendant lights, ornamental lights, residential or commercial string lights, and night lights. Many bulbs with these bases are designed to mimic the look of a candle flame.



Common bulb shapes with E12 bases:


Small tube-shaped bulbs: T8, T6, T22
Candle-flame-shaped bulbs: C7, C9, CA10, B10
Small globe-shaped bulbs: G14, G16, G50
LOHAS E12 LED Bulbs


e12
smart bulb

e12 color changing light bulb

e12 filament vintage light bulb

e12 filament vintage light bulb
Price
$26.99/2 Pack
$29.99/2 Pack
$22.99/6 Pack
$29.99/6 Pack
Lumen
450LM
810LM
400LM
600LM
Watt
(Replacement Watt)
5W
(40W Equivalent)
9W
(60W Equivalent)
4W
(40W Equivalent)
6W
(60W Equivalent)
Light Color
RGB &
Cool White
RGB &
Tunable White
Warm White
Warm White
Color Temperature
2700K-6000K
2700K-9000K
2700K
2700K
Shape
Candle
A19
ST48
Beam angle:
330°
Candle
Key Functions
Controlled by Voice and APP
Controlled by Voice and APP
Decoration
Decoration
Dimmable
√
√
√
×
To these days, an e12 bulb and e26 bulb are the most common and widely used in North America and Europe. With this guide showing their difference here, it's easy enough for you to look at the bulb that you need to replace and shop for a right bulb. Plus, if there is no your cup of tea mentioned above, check out our product list of

led light bulbs

. Click to get some LED light bulbs