How Do I Choose Front Porch Lights?
Outdoor Lighting is a crucial part of home lighting. As the most common outdoor lights, the

porch lights

not only do help to set a tone for your porch by brightening it up, but also deters burglars from stealing to keep your house safe when you're out. Additionally, mounting porch lighting fixtures outside the house can upgrade your beautiful front porch or patio to a new level.

However, getting a right porch lighting is not as simple as you think. So, to help you get the right porch light outside, there are some essential tips and detailed information for your reference. Move on to take a peek at the following contents, and you'll get a chance to learn more about the outdoor porch lighting by location and size, as well as the great feature of three-type porch lights in security improvement.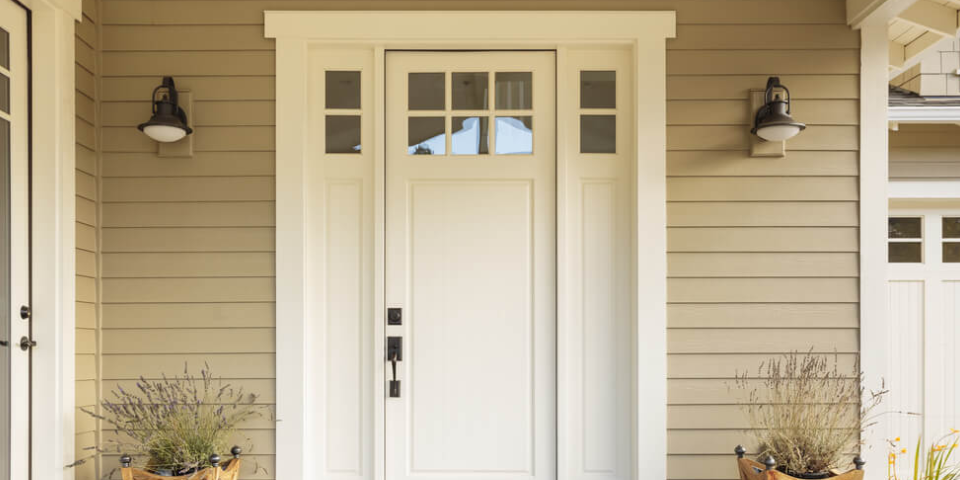 C
ontents:
Install Wall Lamp for Your Porch
Improve Your Home's Security with These 3 Types of Porch Lights
Install Wall Lamp for Your Porch
Engineered with modern and sleek look, a

wall lamp

that shines with warm light adds stylish to your house. Apart from its attractive and classic outlook highlighting your home's landscaping or architecture, there are some fabulous functions of wall lighting like illuminating your front door to provide extra security to your home and much more. That's to say, combined with pathway, landscaping and porch, wall lighting is the recipe for a perfectly lit exterior with a lot of curb appeal.



How to Choose the Right Size of Wall Lamp

Before choosing an outdoor wall light for your porch, you need to consider the suitable size of your front door since wall sconces in different sizes when hung beside a door or entryway influence the visual effect to a great extent. Thus, you should measure the suitable height of the front porch door and choose the best outdoor light to fit your space. Here are two conditions for your reference:

* If the wall lights hung on a single side, it should be about one-third of the height of the door.
* If the porch light hung on each side of the door, they should be one-quarter of the height of the entryway.

The Porch Wall Lamp Position

When install your porch wall lamp, it is important to notice where the installation position should be. Here are the details for you.
• For most homes, the ideal height of wall lamp should be installed at ordinary people's eye-level.
• In most front door and entry areas, your outdoor sconces and wall lights should be positioned to ensure the center point is right around 66-72 inches above the floor.
• For particularly high spaces, you can raise the installation height slightly, but the height above 72 inches is not recommended.




Improve Your Home'

s Security with These 3 Types of Porch Lights
Aside of
acting as
your home's first impression
during the darkness, the outdoor
lighting
is
importan
t to your porch
safety
too, as it can
retreat the thieves who tend to sneak up to your home. But how to choose the right porch light combining function and decorative charm?
Here, we are going to talk about three different types of porch lights, which you can get more details from following then find the right one as you need.

As one of the great outdoor security lighting, dusk to dawn light with build-in photocell sensor realizes the upgraded function of auto on/off, which perfectly help you to avoid wasting energy when you forget to turn off the light while saving your efforts, money, and time. In addition to work as outdoor porch lights, they are widely used in entrance door, patio, garden, porch, yard, etc.. Plus, screwing

dusk to dawn light bulb

to your wall lamp can potentially deter burglars then avoid property loss.



Perfectly freeing your hands, smart light bulbs allow you to turn on/off with your voice command to your Google Assistant, Amazon Alexa or Siri or a tap from your mobile phone. Almost all of the smart wifi light come with the tunable white feature, which is great for your eyes by allowing you to adjust the proper brightness to fit different scenes. Then, some of the smart bulbs are even the

color changing light bulb

, letting you change the color of the light to build a cheerful and festive ambience for your front patio, yard, garden when you entertain

guests, enjoy an outdoor dinner, or just

hold parties on special days like Christmas, Halloween, Birthday, and more. Most importantly, w

ith timer technology, the smart bulbs support pre-set timing to switch the outside lights on/off when needed, which seems like you're home by having lights turn on at different times to b

rin

g you the most comprehensive, up-to-date and secure smart lighting ecosystem.
Price

$26.99/2 Pack

$23.99/2 Pack

$21.99/2 Pack

$24.99/2 Pack

$19.99/2 Pack

Lumen

450LM

450LM

450LM

720LM

380LM

Watt
(Replacement Watt)

5W
(40W Equivalent)

5W
(40W Equivalent)

8W
(60W Equivalent)

8W
(50W Equivalent)

5W
(50W Equivalent)

Light Color

RGB &
Tunable White

RGB & Tunable White

RGB &
Cool White

Daylight White

Warm White

Color Temperature

2700K-6000K

2700K-6000K

2700K-6000K

5000K

2700k

Shape Type

C35

C35

Spotlight

Base Type

Key Function

Controlled by Voice and APP

Generate over 16 million light colors

Generate over 16 million light colors

Controlled by Voice and APP

Controlled by Voice and APP

Dimmable

√

√

√

√

√

In summer nights, there are many annoying bugs like mosquitoes, moths and other insects that appear in your yard or garden. To solve this, yellow LED bulbs show on the market. Designed with special wavelength, yellow bugs light is a great helper to lighten up your exterior house and give off a bright yellow color light to effectively drive the bugs away. All in all, with this insect-free lighting, you will feel more relax during the outdoor dining, BBQ, party, short-term relaxation at night.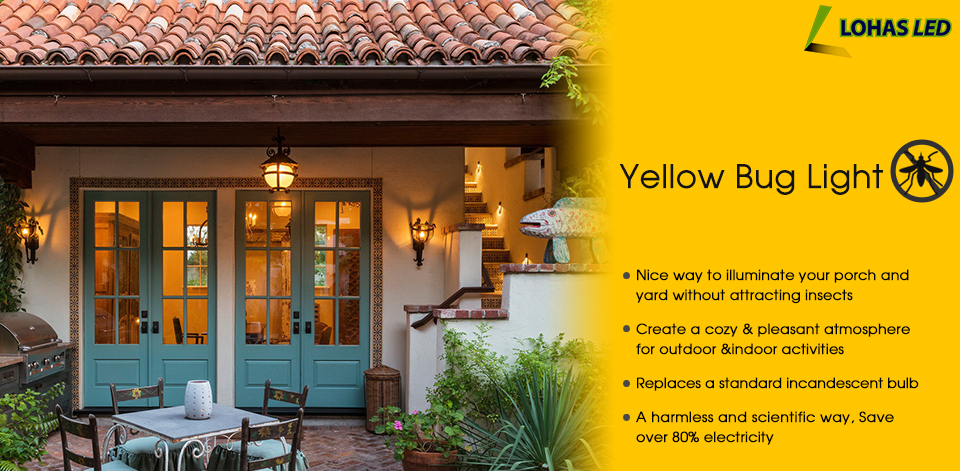 With these helpful tips about the size and position of the porch light fixtures, you must know how to choose the proper wall lamp to match your front porch door well. Meanwhile, diverse types of functional and stylish lighting options boost home's curb-appeal & security, just screw the right bulb into your outdoor wall lamp to get the porch light as you desire.