What are the Best LED Garage Lights?

Nowadays, garages are used for not only housing family vehicles parking, but also storage, recreation and workspace. Given that most garages are the enclosed places with few windows, they are hard to access to outside or natural lighting, in this case, getting the right and bright lighting here is quite important. But with tons of LED garage lights show on the market, choosing the right one for your garage is not just a piece of cake. To help so, we've offered some appealing garage lighting ideas here. Let's dive in!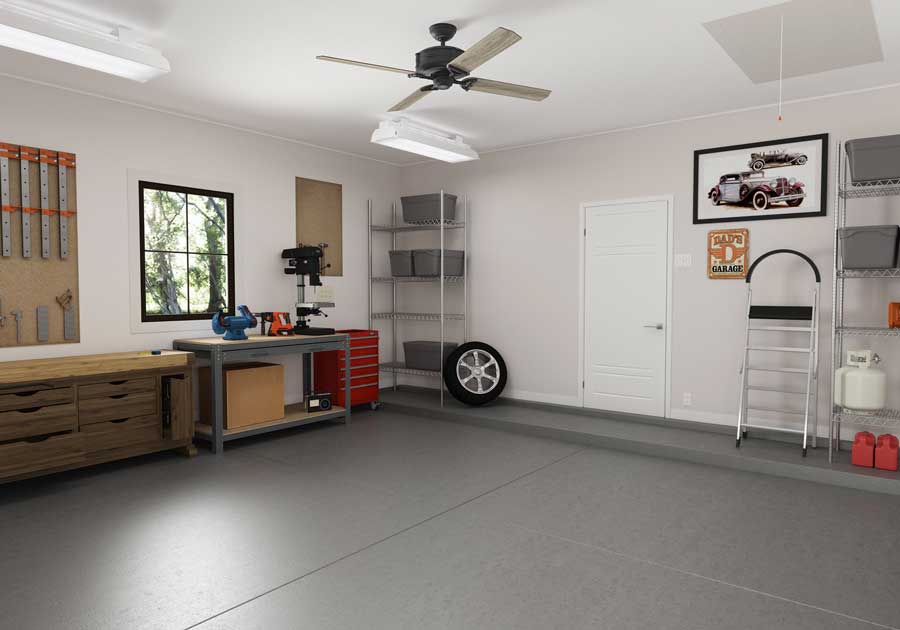 CONTENTS:
What Makes LED Garage Lights Outstanding?
How to Choose the Best LED Garage Lights?
LOHAS LED Offers Bright, Dusk to Dawn LED Lights for Garage
To kick things off, let's start by taking a closer look at the distinct advantages of LED garage lights.
High Brightness & Efficiency:
LED garage lights have a wattage between 24-82 watts while still provide a high amount of light output, which consumes 80% less energy than other lights.
Cost Reduction:
Having a longer life span of up to 30,000 to 50,000 hours that can reduce electric bills and maintenance costs significantly in the long run.
Enhanced Safety & Security:
Offering a well-lit garage environment, LED light fixtures also reduce nighttime crimes and enhance the safety of pedestrians and motorists.
Easy to Install:
Most garage lights have an easy installation system, especially screw-in garage lights. Just simply screw in the socket like a regular light bulb without any hassle of set-up or extra light outlet connection.
Eco-Friendly:
They are free of hazardous chemicals and won't emit IR and Ultraviolet(UV) rays, safe for both humans and the earth.
Before you invest in LED garage lights, keep these important factors in mind.
Brightness
Most garages receive little light that increases the risk of injury, so choosing a bright LED garage light makes your space more visible and more efficient. (The ideal brightness for garage lighting is around 3500 lumens.)
Color Temperature
Color temperature refers to the color the light produces and is measured on a Kevin scale. Temperatures range between 3500K and 6000K with the lower end being warmer and more yellow while the higher-end cooler and bluer. Considering most garages tend to be gray and industrial, you'd better choose the fixture with cooler light because the warmer light will give the space a dingy look. Ideally, 5000K glow that is slightly blue but not glaring or harsh to your eyes will be highly recommended.
Energy Efficiency
Among all sorts of lights for your garage, garage LED lights use the least energy and save the most electric bills. They can cut as much as 90% of the energy consumption of comparable incandescent bulbs, so you guys need to look at energy efficiency labels when buying.
Installation
What type of garage lights you choose to use also largely depends on the complexity of the installation. Easy-to-install options have been widely welcomed by those who haven't much electrical experience or don't want to spend much time and effort, especially screw-in garage lights. All you need is simply screw it into a basic light base without extra wiring or complex steps.
Longevity
The working lifetime of the garage lights is also crucial.
With advanced LED technology, LED bulbs are hard to age and burnout that can last 25-30 times longer(30,000 hours) than sensitive and fragile incandescent(1,000 hours) or fluorescent lights(9,000 hours).
Other Features
Some LED garage lights can be motion-activated or light-controlled, which makes garage lighting more energy-efficient and convenient. It means they can automatically turn on or off by detecting movements or surrounding light. Besides, if you find some areas that fail to get enough light, some multi-positional garage lights allow you to adjust the desired angle to improve a luminance.

Though you know some garage lighting ideas we shared above, picking out a suitable garage light among tons of garage lighting options is still a challenge. Don't worry about that, our picks of the best LED garage lights from LOHAS LED may be what you're looking for.

Consuming only a 60-watt energy, LOHAS LED garage lighting produce a whopping 7200 lumens of cool 6000K light, which enables you to see easily what you're working with without having to hold a torch over your workspace. So they are great for garages, workshops, warehouses, or anywhere you might need ample light, either home or business premises. More conveniently, our dusk to dawn led garage lights offer 2 modes: light control and manual switch, which supports manual control as needed or hands-free auto on/off by detecting the surrounding light. Besides, three adjustable wings attached to a single fixture is another perk of these energy-efficient lights, which allows you to adjust the light's direction to suit your needs. You will surprisingly find you get more bang for your bucks because of their performance for outdoor use: anti-corrosion, water resistance and fast heat dissipation. And don't be frightened by their seemingly-complicated structure, their screw interface is actually the same as the standard LED bulb, so you just need to align the E26 screw and rotate it correctly without any tools.




Hope that all of you may enjoy the reading and take these garage lighting tips to light your way towards a decision. Of course, if our top pick is just the desired type you're looking for, don't hesitate and take it home right now. More practical lighting guides will be shared on LOHAS LED website. See you guys next time!