How to Get Started with Porch Lights
Porch

l

ights

are a crucial part of rounding out any space, not only highlight your home's architecture, create a safe atmosphere, but also add ambience to your patio. In addition, having porch lighting outside can also avoid your falling in the dark, while driving away burglars to greatly improve your home security.

However, whatever your reasons for getting porch lighting, many people now may still have trouble in choosing and installing them. So today we have created this practical guide to help you make your porch lights functional with ease, from choosing the fixtures and bulbs to installing your function upgrades.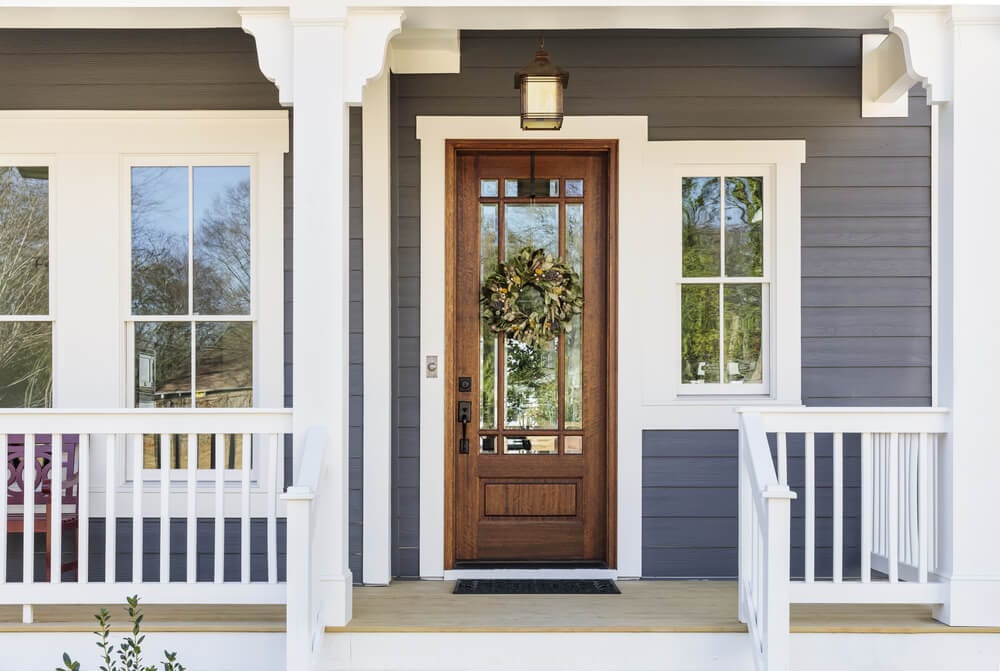 Contents:
STEP 1. Hanging Porch Light
ing
Fixtures on Your Front Door
STEP 2. Screwing Bulb into Fixture to Complete Your Porch Lights

For illumination as well as security, hanging porch lighting fixtures on your front door is essential. And

wall lamp

will be the best choice. As an auxiliary lighting decorative lamp installed on the wall, wall lamp provide a sense of security as well as atmospheric and decorative lighting. Also, by adopting decorative design, it can perfectly revamp your outdoor space, making your home brighter and more stylish.



What Size of Wall Lamp is Best for Your Porch

When purchasing a wall lamp, you need to choose the right size. In order to obtain the optimal visual and lighting effects, the wall lamp size should be determined according to the size of your door. So you need to measure the height of your front porch door and choose the right wall lights that fit your outdoor space. Then, you can refer to the following tips.


If the lights are hanging on both sides of your door, they should be 1/4 the height of the door.

If the light only hangs on one side of your door, it should be 1/3 the height of the door.
Where to Place Porch Wall L

ights

Another important point is the position of porch lights. The place where you position will directly affect the lighting effect of your outdoor porch lighting. Here are some tips to help you place your porch wall lamp properly.


Normally, the ideal height of wall lamp should be level or slightly higher than the eye height of the person.

In most front door and entry areas, porch lights should be placed 65 to 72 inches above the ground.



NOTE:

For higher doors, the lights can be placed higher.





After getting the right light fixtures, it's time to screw the bulbs into fixtures to complete your porch lights. There are a wide variety of light bulbs for you to choose from on the market. And different types of light bulbs also play different roles in your home. So before buying a light bulb, you need to consider some factors, especially its size, function, etc..



Choose the Right Bulb Size that Fits Your Lighting Fixture

When you're ready to pick the bulb for your porch light fixture, the bulb size comes first among all the factors you need to consider. Only by choosing the right bulb size that fits your lighting fixture can the light work normally. Therefore, be sure to choose the porch light bulb that matches its base. And the most common bases for porch lights are e26 base and e12 base.



Lighting Tips:

In general, the bulb with an e26 base is called

e26 bulb

, and either the

a19 bulb

or

a15 bulb

refers to e26 base bulb adopts different bulb shape (a19 or a15). But if you only have a fixture that comes with a smaller base cap, you may need some

e12 bulbs

(i.e the bulb with e12 base), which are commonly compatible with candle shape.

Technical Details Comparison of LOHAS LED Edison Screw Based Bulbs


e26 color changing light bulb

e26 dusk to dawn light bulb

e26
yellow led bulb

e12 color changing light bulb

e12 smart bulb
Price
$21.99/2 Pack
$25.99/4 Pack
$19.99/4 Pack
$26.99/2 Pack
$29.99/2 Pack
Lumen
450LM
500LM
450LM
450LM
810LM
Watt
(Replacement Watt)
8W
(60W Equivalent)
6W
(40W Equivalent)
5W
(40W Equivalent)
5W
(40W Equivalent)
9W
(60W Equivalent)
Light Color
RGB &
Cool White
Daylight White
Orange Yellow
RGB &
Tunable White
RGB &
Tunable White
Color Temperature
2700K-6000K
5000K
2000K
2700K-6000K
2700K-9000K
Shape
a19 bulb
a19 bulb
a15 bulb
candle
candle
Key Functions
Controlled by Voice and APP
Auto Turn ON or OFF
Provide sufficient illumination
without attracting bugs
Controlled by Voice and APP
Controlled by Voice and APP
Dimmable
√
×
×
√
√
Make Your Functional Porch Lights via Switching Bulbs

Upgrading your home lighting system by switching functional light bulbs on your front porch lights can greatly improve your home security and make your home more welcoming. Then what type of functional light bulb can you choose? To help you quickly pick out the right light bulb solution, here are 3 different types of light bulbs with e26 base for your reference.




Dusk to dawn light bulbs with built-in photocell sensors automatically turn on/off by detecting the brightness of the external environment. That's means you don't need to turn on your porch lights manually any more. All you need to do is just screw the bulbs into your porch lighting fixtures. Then equipped with low power (6W), daylight (crystal) white 5000K, 500 lumens, and long life span up to 3000 hours, this is the most cost-effective light bulb for your porch. So, what are waiting for? Free up your hands and brighten your porch with LOHAS LED dusk to dawn light bulb right now.




This color changing light bulb is a kind of smart bulb that is compatible with Alexa Echo, Google Home Assistant and Siri, works with 2.4GHz WiFi. You can light up your porch through remote control and voice control on your phone or tablet with ease. What's more, with over 16 million colors (daylight and warm white + RGB) and 8 scene modes, you can set your favorite color from warm white 2700K to daylight 6000K to create an ideal atmosphere anytime, which instantly makes your porch stand out from your neighbors.




Yellow bugs light bulb is perfect to your porch as it provides sufficient illumination without attracting bugs. As we know, typical light bulbs emit a yellow light which bugs are naturally attracted and this makes sitting near a light outside in the evening bothersome. However, this yellow led bulb is designed to emit an amber glow, creating a comfortable and pleasant atmosphere for outdoor activities, which is enough light to enjoy an evening outside without inviting all of the flying bugs to join you.




If you plan to get started with porch lights, it's important to know what factors to consider. In addition, compared to any traditional light bulbs that only offer illumination, functional light bulbs are much more powerful, and no matter what you want your porch to look like, above 3 different functional bulbs are really worth buying. Thank you for your reading and hope this article will be helpful to you.