What's the Difference between E26 Bulb and A19 Bulb
Shoppers of LED light bulbs often confuse the specifications when comparing light bulb types, especially the terms of E26 and A19. Though they seemingly go hand in hand to describe the bulb types, E26 and A19 actually refer to different parts of a light bulb - the base type and bulb shape, and it is important to know their difference when shopping for led bulbs. So, to walk through each of the definitions and help with your distinguish process, we made this post here.
Or if you're struggling with your e26 led bulb selection, you've come to the right place either! Below, we've also compiled a list of everything you need to know about e26 bulb, which is so informative to help you locate the correct e26 light bulb.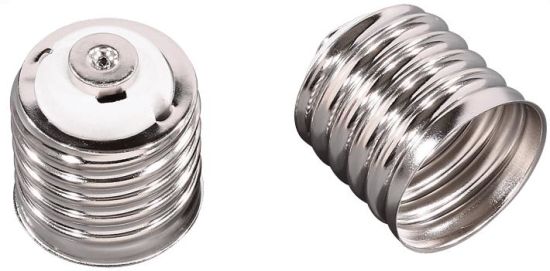 CONTENTS:
What is A19?
What is E26?
Are a19 bulb and e26 bulb the same bulb?
Where is an e26 light bulb used?
How does an e26 led bulb work?
What are the advantages of E26?
The standards and dimensions of an E26 light bulb.
What is A19?
A19 is a term that describes the overall shape of a light bulb, among which, "A" refers to the bulb that has a pear-like shape while the number 19 that follows the "A" indicates the width of the bulb in a length of 100-110 mm and a width of approximately 60 mm. So, A19 is the most common version of bulb shape.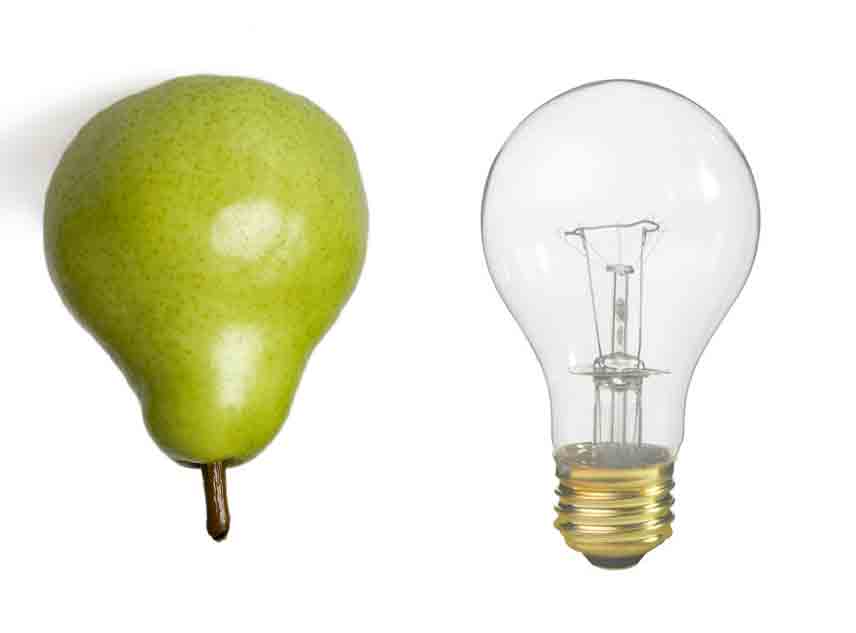 What is E26?
E26 is a designation used for a type of lamp base used on a light bulb, and does not provide us with any information about the shape of the bulb. Using the same naming system as e12 bulb, an E26 bulb signifies an Edison screw base whereby the letter "E", and takes "26" to indicate the diameter of the screw base in millimeters, but the bulb itself can be of a variety of shapes and sizes. Then, E26 is the most common size of light bulb in the United States and referred to as a "medium" or "standard" base.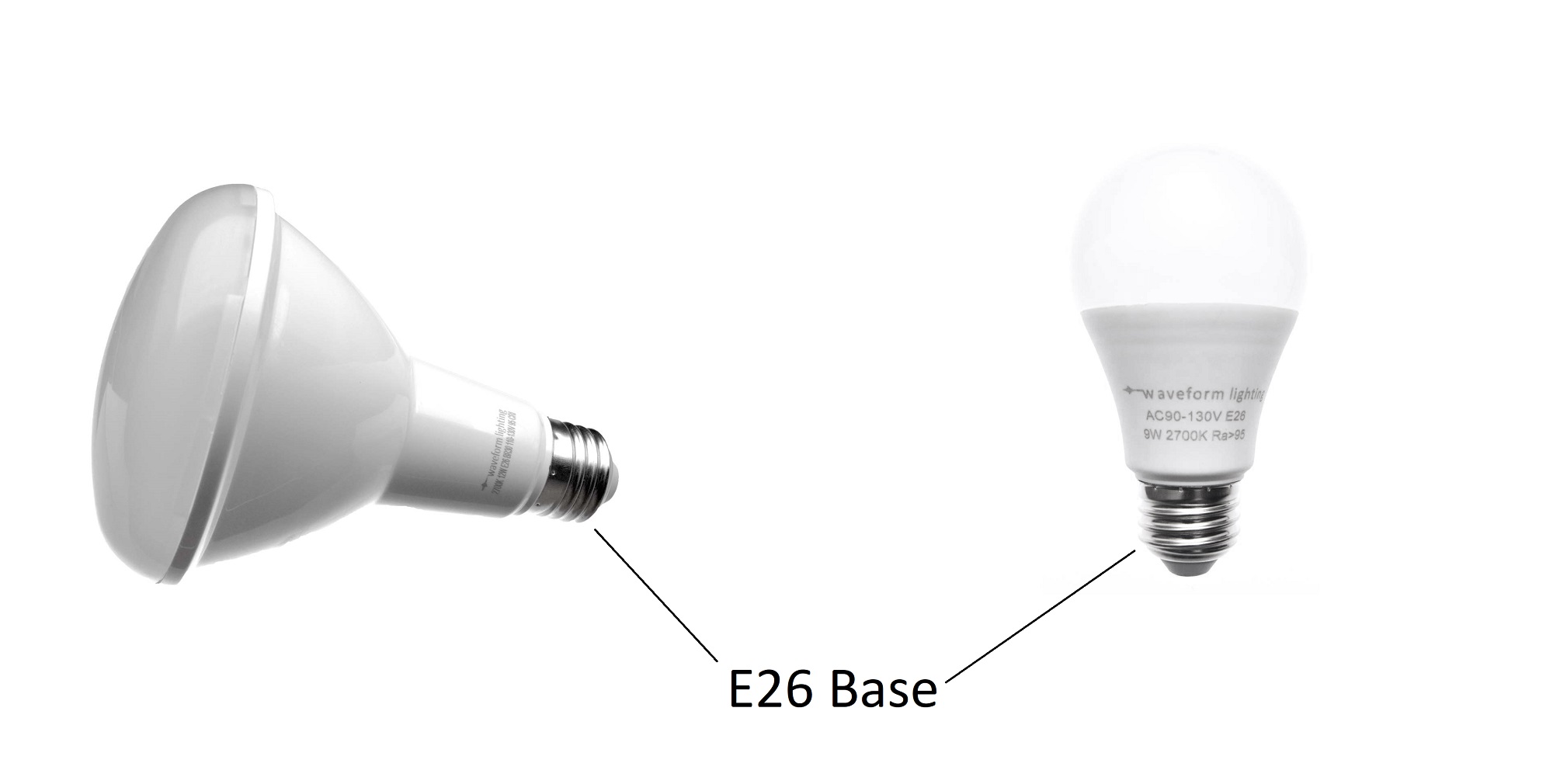 Are a19 bulb and e26 bulb the same bulb?
Based on what we mentioned above, you may know that the terms A19 and E26 are totally represent different thing, where a19 refers to the bulb shape while e26 indicate the bulb base. Then, since the standards that govern the dimensions and design of A-shape light bulbs also dictate that it must use an E26 screw base, all A19 LED bulbs come with 26 base to allowing them to screw into standard fixture. In other words, almost all A19 light bulbs also have an E26 base.

You are likely familiar with E26 bases commonly used in standard A19 lamps. However, manufacturers design different types of LED light bulb with different uses in mind. E26 only describes the base, and the bulb itself can come in different shapes and types. All in all, a19 bulb and e26 bulb don't refer to the same bulb since all A19 bulbs have an E26 base, but not the other way around.
Where is an e26 light bulb used?
E26 bulbs are some of most widely used lamp bases in North America and Japan, and other countries that commonly use 120V AC. Although previously they were most commonly used with incandescent lamps, fluorescent CFL lamps and LED lamps have also continued to adopt the E26 bulb base.
How does an e26 led bulb work?
Like any bulb with the type of Edison Screw base do, the E26 bulbs work once the bulb's screw is aligned with the fixture socket. On the inside of the bulb, electrical wires are soldered or welded onto the screw threads and bottom contact point. These wires then lead to the filament in an incandescent, or internal electronics for CFL and LED E26 bulbs.
What are the advantages of E26?
As one of the most common lamp types, finding an appropriate lampholder or fixture of E26 bulb is typically quite straightforward, then their installation is usually very straightforward and requires no tools or assembly.

Additionally, Edison screw bases are some of the most secure ways to mount a bulb. The strength and rigidity of the screw threads makes e26 led bulb particularly suitable for locations where vibrations may be present, while a tight fit in the screw base ensures that moisture and debris are unlikely to enter the contact points, reducing the probability of electrical failures.




The standards and dimensions of an E26 light bulb
The International Electrotechnical Commission (IEC) specifically govern the exact dimensions to which the E26 bulb bases should be manufactured to.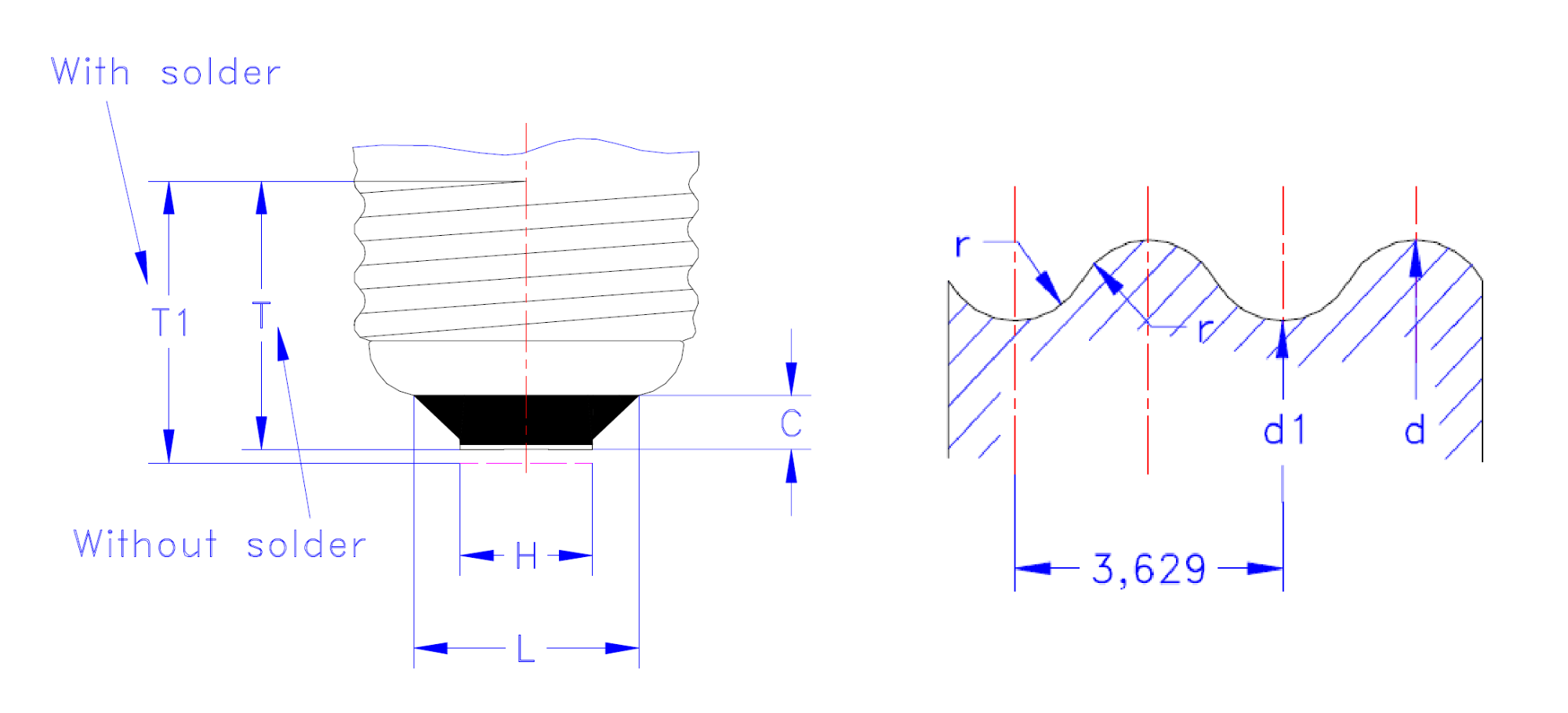 T1: min 19.56 mm





T: min 19.56 mm





H: min 9.14 mm; max 11.56 mm





L: min 15.24 mm; max 17.01 mm





C: min 3.25 mm





r: 1.191 mm





d1: 24.72 mm





d: min 26.05 mm; max 26.41 mm






LED bulbs with e26 base and a19 shape were widely adopted in the early 20th century and become the most common standard in American households. But, as we described above, not all light bulbs that have an E26 base are of the A19 form factor, but with a daunting list of specifications to choose from. Hence, when shopping for bulbs with e26 bulb base, be careful of this difference to make sure you purchase the correct one for your light fixture!