How Tall Should My Floor Lamp Be?
Before purchasing a floor lamp, its height is one of the points to be taken into consideration to avoid discordance and disharmony of the whole home decor. Since the bottom of the lampshade should be at or above eye level in a seated position, the ideal height of floor light is between 58 and 64 inches based on the standard sitting height of a person, which can achieve the maximum lighting effect and match your home furniture and decor well. Surely, if a floor lamp really matches well with your home decor in style, it can be slightly shorter or taller than the recommended height.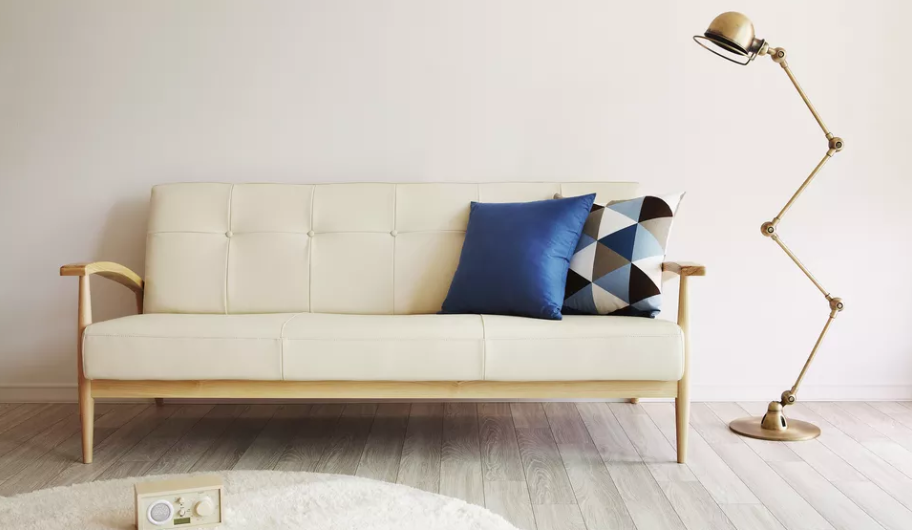 LOHAS LED minimalist & faddish floor lamp fits 90% decor styles from mid century modern to traditional and contemporary décor. Linen lampshade & attached warm white a19 bulb with an e26 base perfectly match with your furniture and create a warm and comfortable atmosphere to any room at your home, making this lamp a perfect compliment to your space. Then, with its 270° adjustable elevated head, this floor light allows you to rotate any lighting direction you need for better protection to your eyes when reading and also move around effortlessly in any room wherever you want. What's more, the non-slip base features a good stability, which means that tgis lamp is 100% safe for your baby and pets. All in all, it's great reading & decorative LED floor lamp for your living room, bedroom, baby room, study room, cafe shop, library, etc. What are you waiting for? Just decorate your room with LOHAS LED Modern Floor Lamp.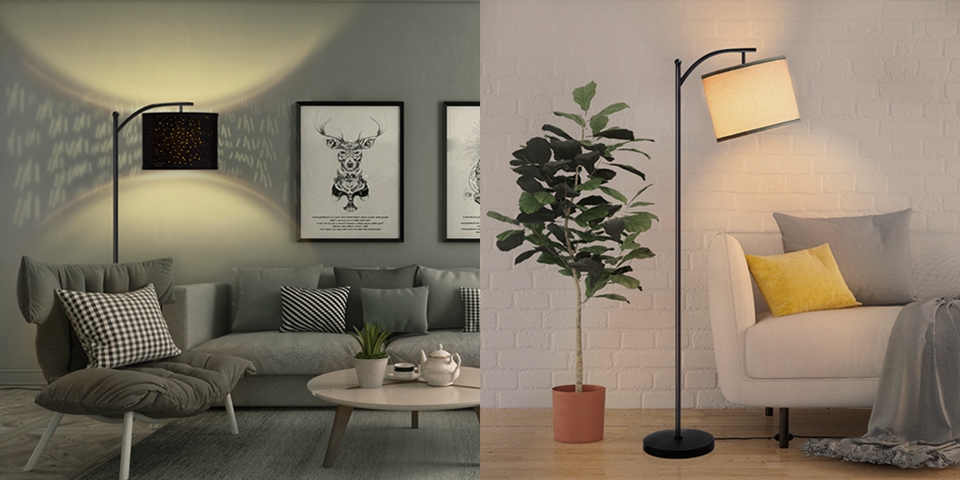 Sky 63" Floor Lamp

Featuring simple, minimalist and elegant appearance, Brightech Sky LED Torchiere floor lamp painted with 5 classic finishes matches any vintage, modern, minimalist, urban, casual or contemporary home décor well. Its 360°rotatable lamp head casts a 3000K soft warm white glow and lets you customize the light in any direction you desire. With a power of 26W, this energy-efficient floor light emits 3000LMs high illumination, which is expected to last over 20 years, more efficient and brighter without breaking much budget. Additionally, this dimmable floor lamp provides three brightness settings from soft to white glow, perfect for different applications in the living room and bedroom like watching TV, reading, sleeping, relaxing and more. With the total height of 63inches, this simple and sleek floor light is nearly the maximum recommended height for floor lamps. If you are a minimalist lover, you will most likely love this floor lamp!




Emma 61" Floor Lamp

With the structure of birch toned wooden legs and cream white lamp shade, Emma stylish mid century modern wooden tripod lamp matches both eastern and western-style furniture well and fits any room decor, contemporary or traditional. This tripod floor lamp includes 9.5W, 800LMs power-saving LED bulb with 20000 working hours so that you will never have to replace a bulb. Emitting glare-free 3000K warm amber glow, this floor lamp builds a sweet and comfortable ambience to your interior design scheme. Besides, it works with smart outlets that are Alexa, Google Home Assistant, or Apple HomeKit enabled to turn on/off the lamp, making your life easier and smarter. Emma 61 inches tall Floor Light adds something unique in room room or office!




Litespan 53" Floor Lamp

If you need a lamp with high intensity light to show you fine color contrast for hobbies and task such as working, sewing, knitting, reading and puzzles, Litespan bright LED floor lamp is what you're looking for. Shining 850-950 lumens, this standing lamp consumes only 12W power and produces 6000K natural daylight color light as bright as the sunlight, letting you 100% focus on your task. Also, the highlight design is the adjustable goose neck which allows you to adjust any lighting angle you need, reaching the height between 42 and 53 inches.




Revel Akira 80" Floor Lamp

This Akira modern arc floor consists of an elegant bronze finish and three beige woven burlap drum shades, full of aesthetic style. 3-way lighting design paired with a 2700K-3500K color temperature optimizes dimming preference and creates a cozy and pleasant atmosphere, making you enjoy the comfort of mind. Due to its trinity arc shade, this multi-directional floor light takes some space. Plus, the lamp, reaching 80" in height, easily lights up a whole big room. With a weighted and well-balanced base, it's well-balanced and not easy to tip over, safe for your kids or naughty pets. You can place it next to or behind an armchair or a sofa, or in a corner of a larger living room or bedroom instead of a confined space.




Eclipse 79" Floor Lamp

A contemporary update to the creative torchiere lamp, the Brightech Eclipse features two minimalist rings(18inches & 14 inches)whose angle you can adjust freely upward or downward, left or right to set the ideal lighting angle and compliment on your art pieces. With an output of 2000LMs, this LED floor light creates a warm and inviting atmosphere with its 3000K color temperature. Even better, it's convenient to adjust 3-level light intensity ranging from super bright to soft with the dimmer to set the perfect lighting for your space. The lamp's total height is 79 inches, or 6 and a half feet, providing comfortable yet bright light for you to read, watch movies, draw, arts and crafts, and study.




Choose a right floor lamp should take many factors into consideration to avoid looking awkwardly with your home furniture and style, especially the height of the them. Above 6 floor lamps vary from each other in appearance, style, functions, material and specifications. Just choose your desired one.