How to Install a LED Porch Light Outdoor for a Warmer Welcome
Most people know that hanging
porch lights
on your porch has many benefits, such as lighting up your porch in the dark, helping you avoid obstacles to prevent falls, or even driving away burglars. But have you imagined that having
LED porch lights
on outdoor can also extend a very warm welcome for you and your family as well as your guests and visitors? And to ease your search, we have made this article here to share a complete guide with you.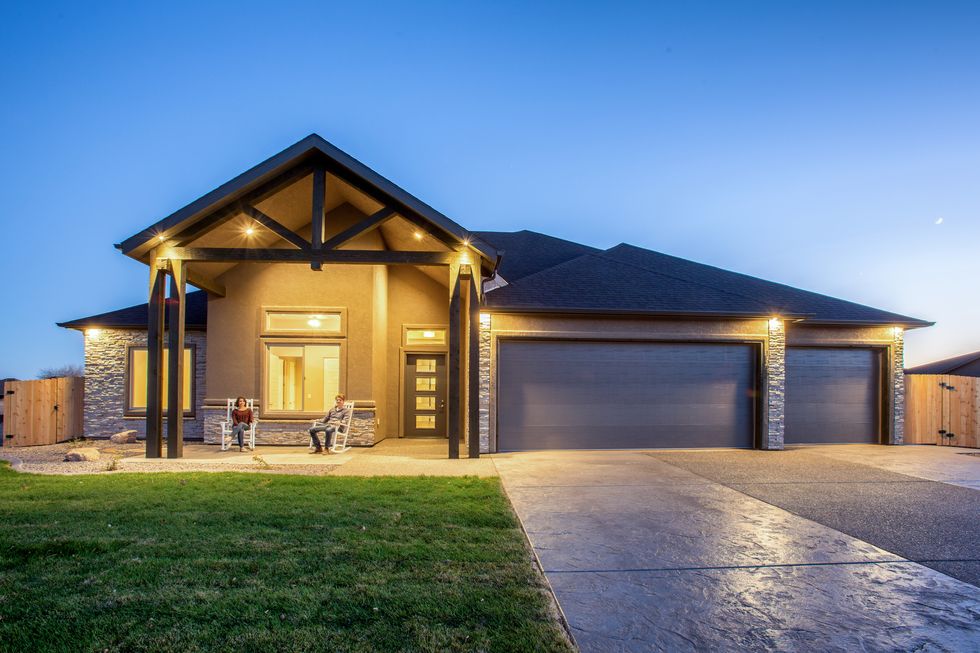 CONTENTS:
A Step-by-step Tutorial for Safe, Simple LED Porch Light Installation
Tips on Choosing the Best LED Porch Light Bulb
Installing LED porch light outdoor won'
t be tricky, but there are some details that you need to pay attention. To help your porch lighting work perfectly and safely outdoor, we'
ve compiled a step-by-step installing guide below. Here are the complete installation steps.
Note: Before installation, the following tools should be well prepared:

sturdy ladder

w
ire nuts

screwdriver

level ruler

electrical tape
Step 1:
For your safety, you should turn off any electricity to your porch light with your dry hands before starting the installation work.
Step 2:
Use a secure ladder and stand at a proper height, unscrew the screws with a screwdriver and then unscrew the wire nuts to remove the old light fixture. (Tips: While unscrewing, always hold your old light fixture in case it falls to the ground.)
Step 3:
Unscrew the old mounting plate (T
his step can be omitted if you want to reuse it and it also works with your new light fixture)
and clean the outlet box with a cloth.
Step 4:
Install a new mounting plate on your outlet box, but do not tighten it all yet. And u
se a level ruler to help fully tighten the mounting plate.(Tips: Always keep the level up).
Step 5:
Attach the wires to the light fixture. That is, connect the white house wire to the white fixture wire and do the same for the other two black wires. Then attach the house ground wire with the fixture ground wire. Remember to use wire nuts to fix the wire pairs.
Step 6:
Bend the house ground wire connected to the fixture ground wire to fit the green ground screw for the mounting plate. Then tighten the green screw to hold it in place.
Step 7:
Use electrical tape to seal the wires and ends of the wire nuts for better security, insulation and protection.
Step 8:
Install a new porch light fixture on the wall and screw in a new LED light bulb to get a brand new LED porch light.
Ensure your new bulb is good fit for your hanging porch lighting fixture.
There are many factors to consider when purchasing light bulbs, and the bulb size comes first. To these days, there are various size of light bulbs show on the market, such as
e26 bulb
,
e12 bulb
,
a19 bulb
etc. So, whenever you go for a new porch light, always make clear about what size its cap base own to choose the right bulb size, as your new porch light bulbs only work well when it well fit your hanging porch lighting fixture. For instance, if your porch lighting has an e26 cap base, you should choose e26 bulbs to fit its cap. The same is true for the other e12, a19 etc.
Pay attention to life expectancy, energy usage, light color, and level of brightness.
Apart from the light bulb base, there are still some other important factors to consider when you
'
re choosing LED light bulbs. Usually, LED light bulbs have a long lifespan of 30,000 to 100,000 hours, compared to traditional incandescent and fluorescent bulbs, LED bulbs greatly reduce the frequency of re-lamp, almost once and for all. Besides, with a lower energy consumption, LED bulbs save more than 80% of electricity compared with traditional incandescent bulbs, and are 10 times brighter at the same power. However, to meet almost all household
'
s needs, led light bulbs are designed in diverse light color (color temperature) and brightness, and these two item labels are additional factors you should take into consideration. Light color and brightness stand for total different things, so be careful not to confuse light color with brightness. For example, a LED light bulb with a color temperature of 3000K refers to the one that produces a soft warm white light, and the brightness denotes the lumen value of a light bulb, the higher the lumen values, the brighter the light bulb is.
Add extra function to your porch lights.
With the continuous progress of LED technology, LED light bulbs are now coming with muti-function, so just choose the one you like based on what function you want your porch lights show. For the one who incline to hold party outdoor, screwing
LED smart light bulbs
into your porch lights must be an ideal choice, especially the
color changing light bulb
. That because, smart bulbs perfectly enable you to remotely control your light via voice, timer as well as your mobile phone, and the color-changing one can even allow you to adjust different light color, brightness or create specific atmosphere you desired for your party. Then, if you want a bulb that requires you no manual operation once it has been installed, an dusk to dawn light bulb will perfectly meet your need, as the built-in photocell sensor enables the bulb to automatically turn on when it
'
s dark and off during the day. Plus, unlike typical light bulbs, which emit yellow light and naturally attract bugs, the
LED yellow bug light bulb
provides you with a bright and comfortable night without inviting flying bugs to join you. If you are looking for new light bulbs for your outdoor porch lights, check out these three different kinds of LED bulbs. For more details, just click on the link.
All in all, installing porch lights outdoor is an economical and practical way for you to make your home look more welcoming. What are you waiting for? Just follow this guide to safely and correctly hang LED porch lights outdoor for a warmer welcome.