[Floor Lamp Guide] 10 Popular Types of Floor Lamp for 2020
Do you think

floor lamps

are all the same?

Actually not,

different

sizes

,

finishes

, luminosity and functions can make floor lamp

s

different.

Therefore,

choos

ing

a

floor lamp with an

appropriate type

based

your

points of its

use is very important.

In this article, we will share 10 different types of floor lamps

you will love in 2020

.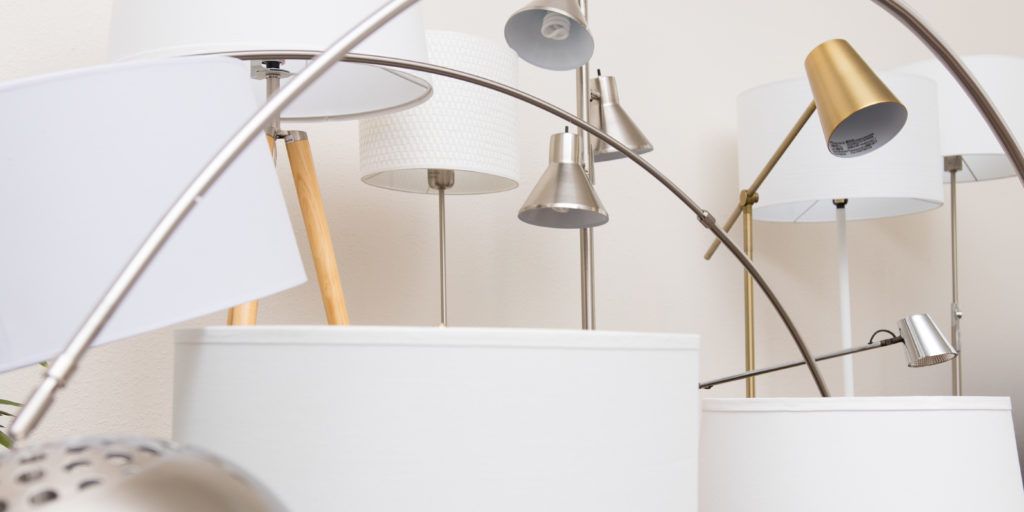 THE OUTLINE OF FLOOR LAMP TYPES:
Traditional Floor Lamp
Modern Floor Lamp
Shelf Floor lamp
Arc Floor Lamp
Torchiere Floor Lamp
Tiffany Floor Lamp
Pharmacy Floor Lamp
Glass Tray Floor Lamp
Tripod Floor Lamp
Tree Floor Lamp
Traditional floor lamp is mainly used in retro rooms, usually composed of a lamp holder, a decorative lamp post and a traditional lampshade on the top, and the lampshade is designed with a narrow top and wide bottom. It'
s usually made of wood, but if you are looking for something more traditional, you can also find one made of bronze or brass with an ornate design. This traditional lamp from Brightech Sophia has a classic design. The warm bronze finish, the elegant lamp post and base and the tan lampshade match perfectly. Besides, with a height of 63 inches and a maximum diameter of 13 inches, which takes up very little space. So it is an amazing floor lighting for the rooms of art deco, retro, mid-century modern style.
Modern floor lamp
is
generally simple in design, without too much ornate
and complex
decoration, which makes
it
suitable for most types of rooms.
Shown here is the
LOHAS LED
modern floor lamp
with minimalist
and
stylish design
. The
warm light tone makes it fit perfectly
in
any room of contemporary or traditional decor. Designed with 270° rotatable linen lampshade and moderate size (61 inches high), paired with an energy-saving warm white a19 bulb, this lamp can be moved around and placed in any room where light is needed, protecting your eyes from close direct light when reading or home office. Due to its strong versatility and compatibility, it can be used as smart bulbs and is suitable for most home smart outlets, such as Alexa, Google Home Assistant, Apple HomeKit. This is, in short, a great modern floor lamp for reading and decorati
ng
in your living room, bedroom, study room, etc.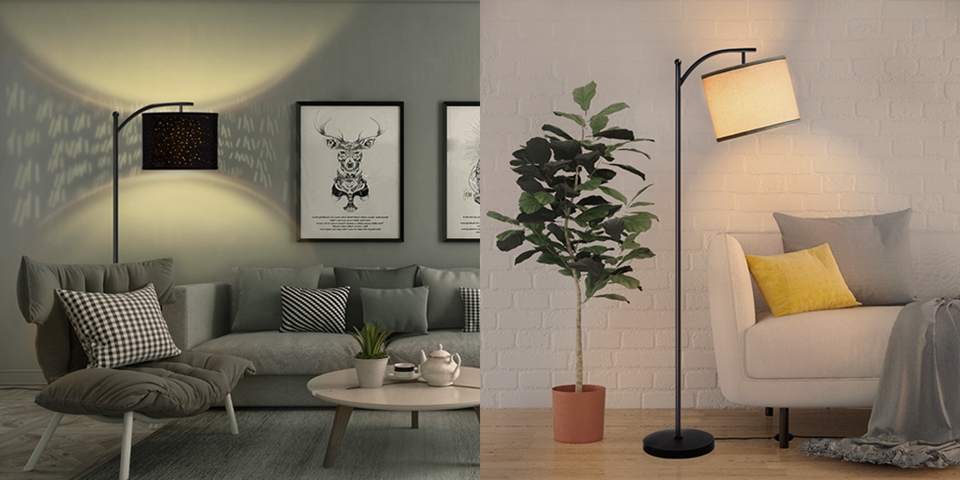 A combination of shelf and lighting. If your space is limited, then you must not miss this type of floor lamp. This shelf floor lamp from Brightech Maxwell with the book- and display- shelves attached, is a tall, free-standing column lamp. At the top is lighting, which emits 3,000K warm white light through the top translucent panel. And below are shelves, which is convenient for you to place some small things, such as books, remotes, plants, art etc. and greatly saves your space. The design of a narrow body with 3 shelves (height: 63", each shelf size: 10" * 10" * 15") helps you save more space. The color walnut brown makes it also especially suitable for rooms such as study rooms, living rooms or storages.
Arc floor lamp, as the name suggests, its appearance is arch or arc,
the
lamp-post rises upward,
bend
next
,
and then
draw out
the lighting. This floor lamp from Brightech Logan is designed with a golden light pole that matches greatly the linen cylindrical lampshade. The tall max height of 76 inches fills space in rooms with high ceilings, which can illuminate where you need. The low 1.5" marble base slides easily under your couch. So you can put it next to or behind a sofa, bed or desk, and it still glows brightly overhead, especially in rooms that don'
t have space for common floor lamps. Because the arc is adjustable, you can telescope it up to 44 inches in from the pole. The lampshade opens up at the top and bottom, so it can also work as an uplight and downlight.
Torchiere floor lamp is a lamp which can radiate strong light outward and upward. It looks like a torch and the lampshade is unfurled upward. The lampshade directs light to the ceiling, where it diffuses into a

delightful

light covering the whole room. This dimmable torchiere floor lamp from BoostArea can emit up to 2160LM and 3000K natural daylight, which is bright enough for a regular living room. Simply designed, but sturdy and practical. From the lampshade to the base, this torchiere floor lamp is made of premium metal. With a heavy base and thin body(11

"*

11

"*

70.5

"

), it stands steadily and does not require too much floor space.
Tiffany floor lamp is another typical floor lamp. Its outstanding feature is that the lampshade consists of many small pieces of colored glass, which are fixed in place to form patterns. There can be geometric patterns, flowers and other colorful patterns on it, which makes it very decorative. The light usually comes from under the lampshade, but there are also types that come from above, like the torchiere floor lamp. This tiffany floor lamp from Cotoss is in 18 inches wide and 65 inches tall. And it comes with pull chain switch, 2*E26 standard sockets for you to screw e26 bulb. Leaded glass floor lamp shines the light through the glass and creates beautiful patterns. It is a perfect match for the sofa and chair, as well as the corner in the living room and bedroom. A tiffany floor lamp can instantly change the atmosphere and beautify the room, whether it's on or off.
Pharmacy floor lamp has a two-part pole, one pole attached to the base that stands upright, and usually is only 40-50 inches high. The other pole is connected to the lamp holder, and it can swing. With this swinging arm, the lamp holder can swing outward or rewind close to the lamp. The lamp holder can rotate and usually points in a specific direction, so it can provide strong light for local lighting. This floor lamp from Kira Home is a typical pharmacy floor lamp. With a dimension of 58" (H) x 10" (W) x 23" (L), adjustable height (45.5"-58") and featuring a unique industrial brushed, which is ideal for reading or home office.
Glass tray floor lamp is a floor lamp with an end table that provides the function of the end table but takes up less space than the end table and provides lighting for you. The glass tray is usually located in the middle of the lamp post, like this floor lamp from Caper, its tray table is 14" wide and 28 1/4" high from the floor. Equipped with a power outlet and a USB port built-in so you can easily recharge your smartphones and other devices. With a brushed nickel finish, metal base and pole, tempered glass tray table, providing excellent quality and perfect finishing touch.
Tripod floor lamp's lamp holder is supported by "three legs", most of which are adjustable, similar to the tripod used for cameras. The design of the tripod plays a decorative role, make the space look brand-new. At the same time, triangles provide good stabilization. For example, this Ambiore tripod floor lamp is equipped with a high-quality retractable tripod leg, and you can adjust the height of the lamp pole anytime you need. The warm white light penetrates the linen beige cylindrical lampshade and emits light from above and below the lampshade. With a moderate size(height: 61.02", shade: ø17.71"*9.84"), it is particularly suitable for living room, bedroom and provides a peaceful atmosphere.
Tree floor lamp is a kind of tree-shaped floor lamp, the composition of the lamp is mainly branch and the lamp bulb. A typical tree floor lamp usually has three bulbs and they are set at different heights, similar to the branches of a tree at different heights, with each lamp positioned in a different direction. So in general it feels like a tree. Like this tree floor lamp from Brightech, Three adjustable arms create a tall and large standing lamp. Each swing arm can be moved side to side so that you can position the light where you want, convenient for a sectional or modular couch, and creating a presence in a large lamp. This multi-arm lamp features a four setting switch on the main pole turn on one, two, or all three lights at once.






As you can see, there are so many

different type

s of floor lamps

.

Which is

y

our

f

avorite?

Click

here

to get them.