E12 LED Bulbs You'll Love in 2020
LED bulbs are now available in the smaller E12 size, which is usually found in ceiling fans and chandelier fixtures. However, also called candelabra bulb, an E12 bulb refers to a specific base type, but it comes in different types of bulbs to give you some choice in how you light your fixture. So, with so many different shapes, application and function associated with E12 LED bulbs, you may find it among the sea of light bulb options can be challenging, and that's also why we made this post here. Now, just check out the ultimate guide to E12 bulb below to ensure if the E12 LED bulb you intend to purchase matches the type taken by your light fixture, and whether the light it emits fits your needs or not.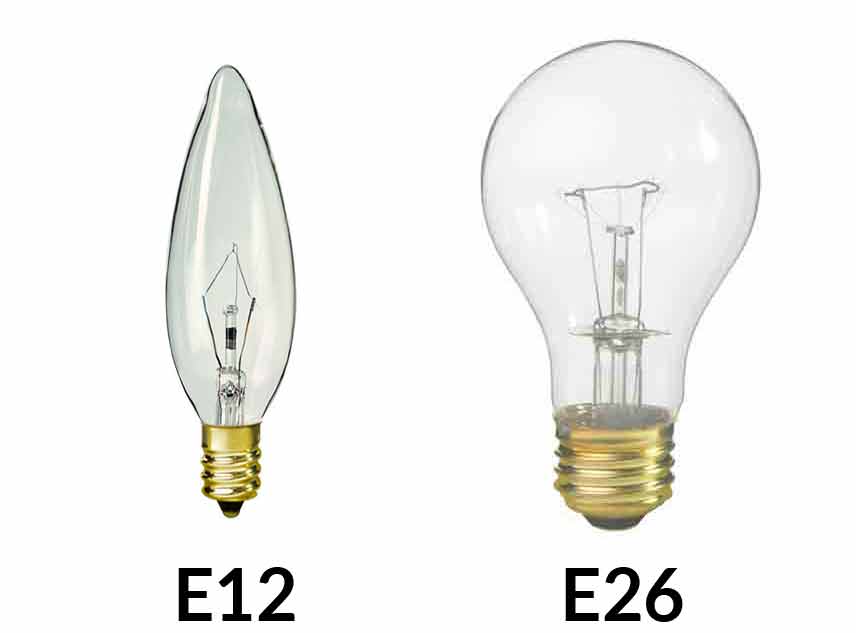 Contents:
How To Determine The Light Bulb Base Type
What is an E12 bulb?
Where is E12 used?
The E12 LED bulbs from LOHAS you'll love in 2020
Finding the right bulb for your fixtures can seem like a guessing game. So, before going to the comprehensive guide to E12 bulb, you must make sure the base type of the bulb you want perfectly fits your specific fixture at first, then here's how.

Screw Based Bulbs
To begin with, all you need to do is to find whether there are the threads on the bulb. Threads indicate a screw-type bulb, whose popular sizes are candelabra, intermediate, medium and mogul. Among which, candelabra are the smallest and typically utilized in chandeliers, sconces or small lamps, while moguls are the largest, and are found on higher power bulbs such as metal halide.

BI PIN Based & Fluorescent PIN Based Bulbs
Then, you should look for the pins. If you find there are pins set on one or both ends of the bulb, then it must be the pin based bulbs - BI pin based bulbs and fluorescent pin based bulbs. Among them, Fluorescent bulbs offer three basic sizes: the T8, the T12 medium bi-pins - with the T12 being spaced further apart - and the miniature bi-pin.

Plug-in Type Based Bulbs
When it comes to the plug-in type base, each of them has the appearance of a rectangular protrusion on the plug end of a compact fluorescent bulb, which is identified by codes beginning in PL.

Bayonet Type Based Bulbs
Bayonet bases serve to snap and hold the bulb in the fixture, and they are used for many LED bulbs currently. To ensure whether the bulb is a bayonet type base, you should charge them by a smooth sided base like a screw base without threads. There are one or two contact points on the underneath of the base; pins, grooves or flanges protrude from the sides and are either straight across or slightly offset from one another.
To begin with, let's take a look at what do the letter E and the number mean. Light bulbs come in a variety of shapes and sizes and are generally categorized by their bases, whereby the letter "E" signifies an Edison screw base. Then, the two digits after the letter "E" refers to the diameter of the screw base in millimeters, even in the U.S., where the bulb glass is listed in eighths of an inch. To take E12 for example, it has a diameter of 12 mm.

Currently, there are 4 common sizes of screw-in sockets used for line-voltage lamps:



* Candelabra: E12 (diameter of 12 mm)




* Intermediate: E17 (diameter of 17 mm)




* Medium or Standard: E26 (diameter of 26 mm)




* Mogul: E39 (diameter of 39 mm)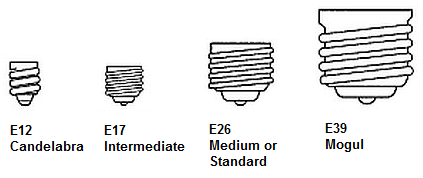 E12 indicates the smaller "candelabra" base, which is used for nightlight bulbs, and sometimes for decorative light bulbs used in chandeliers and over bathroom mirrors. Like E26 bulbs do, E12 bulbs were introduced by Edison and became widely adopted in the early 20th century. Currently, they are one of the most common standards in American households.
Dimensions of E12 lamp base
The exact dimensions of E12 lamp bases are governed by IEC standards 7004-28-2, which specifically govern the exact dimensions to which the E12 lamp bases should be manufactured.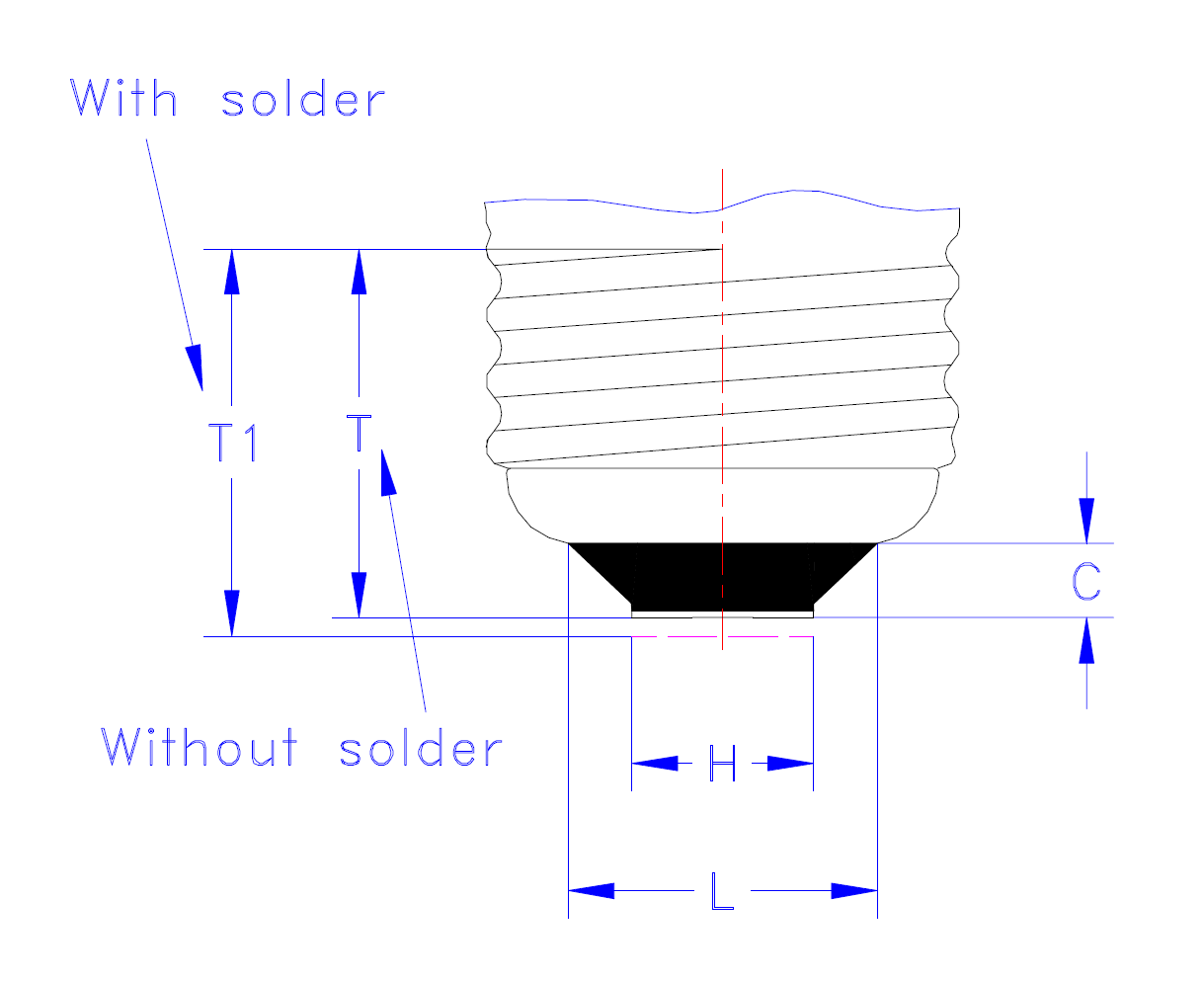 T1: min 11.7 mm

T: min 10.66 mm

H: min 3.58 mm; max 4.37 mm

L: min 15.24 mm; max 17.01 mm

C: min 1.6 mm
As what we mentioned above, E12 is most commonly used for decorative, candelabra light bulbs, as its smaller screw base really helps more decorative and compact form factors can be achieved in elaborate ceiling and chandelier lighting fixtures.

For this, the wattage ratings for incandescent E12 bulbs are typically 40W or less, making E12 bulbs are typically used where accent or decorative lighting effects are desired rather than a focus on providing raw brightness. As a result, wall sconces, lanterns and outdoor fixtures are all common places where E12 lamp-holders are used.

Luckily, LED bulbs are now available in the smaller E12 size, so it goes without any question that the E12 LED bulb is more energy efficient while producing better light quality than an incandescent bulb.





Nowadays, even though you know that the E12 LED bulb is all you need, you may still be confusing with purchase as they come in different varieties of function, wattage, lumen or even the application etc.. Therefore; to help you choose the one that really fit your needs, we have listed 5 top E12 LED bulbs from LOHAS that you will love in 2020 below.
Technical Details Comparison of LOHAS E12 LED Bulbs


E12 Samrt Candle
Bulb

E12 Dusk to Dawn Bulb

E12 Filament Vintage Bulb

E12 Filament Vintage Bulb

E12 Decorative Cylindrical Bulb

Price

$26.99/2 Pack

$15.99/2 Pack

$22.99/6 Pack

$29.99/6 Pack

$18.99/3 Pack

Lumen

450LM

580LM

400LM

600LM

1100LM

Watt
(Replacement Watt)
5W
(40W Equivalent)
6W
(60W Equivalent)
4W
(40W Equivalent)
6W
(60W Equivalent)
12W
(100W Equivalent)

Light Color

RGB &
Cool White

Daylight White 5000K

Warm White
2700K
Warm White
2700K
Warm White
2700K

Shape

Candle

Candle

ST48
Beam angle:
330°

Candle

Candle

Key Functions

Controlled by Voice and APP

Auto Turn ON or OFF

Decoration

Decoration

Decoration

Dimmable

√

×

√

√

×
As you can see, E12 bulbs are commonly used as decorative fixtures, and LOHAS has successfully made it different now. Always keep our customers in heart, LOHAS inclines to let our items owns various functions to fits all your needs. So, with 5 top E12 LOHAS LED bulbs above, no matter the E12 smart bulb, E12 dusk-to-dawn bulb or simply the decorative E12 bulb you want, you could always find the one you like from us, all down to personal taste.





What are you waiting for? Just stop hesitation and navigate to LOHAS official site to get your desired E12 LED bulb now. Also, feel free to share this post with your friends if you find any helps there.