3 Best LED Candelabra Bulbs for Ceiling Fans
Nowadays, many people still using ceiling fans for staying cool in hot weather. That's because, compared to having an air conditioner worked, it's a much more economical way of cooling. Then, with the ongoing improvements to their design and function, most of the ceiling fans today have been added lights, and that's how ceiling fans light show in. In this article, we will explain why ceiling fans have candelabra bulbs as well as share 3 best led candelabra bulbs to match your charming ceiling fans & candelabra light kit. Just read on!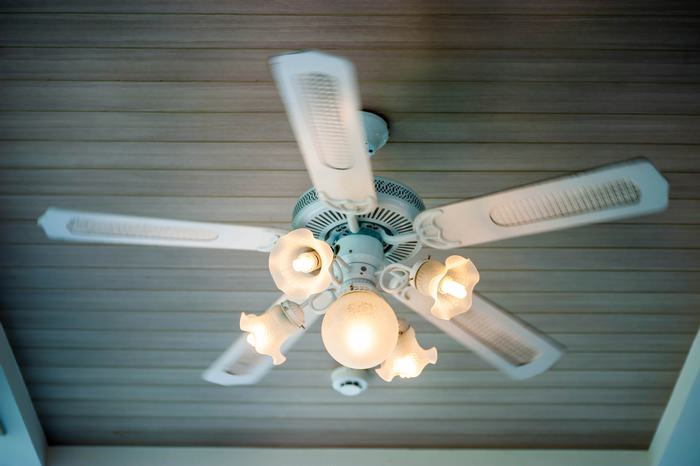 CONTENTS
:
Why Ceiling Fans Have Candelabra Bulbs?
What Are Candelabra Bulbs?
What
Are
the Best Led Candelabra Bulbs to Go in My Ceiling Fans?
There is a fairy historical reason as to why ceiling fans have candelabra bulbs. Here we need to journey back to the year 2005. President George W. Bush enacted the Energy Policy Act of 2005. One provision of this act limited socket type lighting to 190 watts or less so as to conserve energy. To respond
to
the Bush government's energy efficiency policies, many ceiling fan manufacturers produce low-watt incandescent bulbs to keep the total wattage of the light kit. A few years later, however, new regulation of the act stated that medium base 60-watt incandescent bulbs need to reduce by 20% energy consumption. They accordingly changed medium base 60-watt incandescent bulbs into smaller candelabra sized bulbs as alternative energy-efficient options.

Next we are gonna to explain what exactly this kind of bulb is. Candelabra bulbs, namely e12 bulbs, are known as candle or torpedo bulbs since their shape resembles candle's flame. They are therefore much more decorative for their retro and attractive look. Once powered on, it shines atmospheric glow and enchants the beauty of the whole room. With E12 or C7 bulb base, they can widely fit exquisite smaller light fittings or large chandeliers with e12 socket, or screw into standard e26 socket using an adapter. Though smaller and more energy efficient they are, it doesn't mean they could only emit weak light. Instead, they can still give off bright light at high lumen values but use only a small fraction of energy. More than that, led candle bulbs last far longer than incandescent bulbs. So all up, candelabra bulbs tick the boxes for most homeowners: they are decorative, energy-efficient, bright and dimmable.




However, with various candle light bulbs showing on the market now, it can be rather confusing how to select a
suitable
chandelier bulb to go in your ceiling fan. To help so, we
chose three popular led candelabra bulbs
for you
.
Looking for a type of led bulbs that can provide limitless possibilities for your ceiling fans? This smart candelabra bulb can satisfy all your imaginations. Switching this smart candelabra bulb on your ceiling fan can make it work for you, which means you can remotely control via smartphone app or voice command using your Google Assistant, Amazon Alexa or Siri with no need to install dimmer or control manually by wall switch. Featuring 2700-6000K tunable white, millions of colors and 8 lighting modes, this mood creator can be freely set to any scene like party, relaxation, reading and more. Plus, by setting timer, you can turn on your light before you get home or make your abode seem like you're home to improve security. These sweet vintage bulbs are perfect for most ceiling fans with open socket fixtures or fixtures with clear glass shades, making an attractive spot in your foyer.
Designed to use with chandeliers or any fixture with a candelabra base, these G14 bulbs with small E12 bases are a great replacement for those energy-sucking bulbs. Being a wallet friendly lighting addition, each candelabra light bulb consumes only 5 watts of energy and emits 4000K daylight glow as a traditional incandescent bulb. Plus, with 80+ CRI displayed, the bulb further facilitates lighting effect that presents you ultra-sharp objects in the room. Even better, it reduces the frequency of bulb replacements since one led candelabra bulb can last up to 30000 hours under normal use. These candelabra light bulbs come in a pack of 6 at only $16.99, allowing you to set up anywhere such as living room, kitchen, bathroom, bedroom, or other corners.
Here is another pack of 6 E12 candelabra bulbs for your ceiling fans if you want a dimmable function. Though the bulb produces 5000K daylight glow at high 550 lumen, they are compatible with most dimmers that enables you switch the optimal brightness according to your special needs. Replacing a 60-watt incandescent candelabra bulb, this 6W LED candelabra bulb consumes less energy than incandescent bulbs yet produces the same amount of brightness, saving over 85% on electricity bill. Plus, these bulb
s
are free of mercury, UV, IR and CE, RoHS, FCC certified, which adds another great reason for you to choose them.
After browsing the above three types of led candelabra bulbs, are you going to replace your traditional incandescent bulbs with one of them? Also, if there's no your type mentioned, don't miss out on checking
product list
from
LOHAS LED
, as we do offer diverse kinds of led candelabra bulbs here. Don't forget to share this article if you think it could help someone you know! Thank for reading!